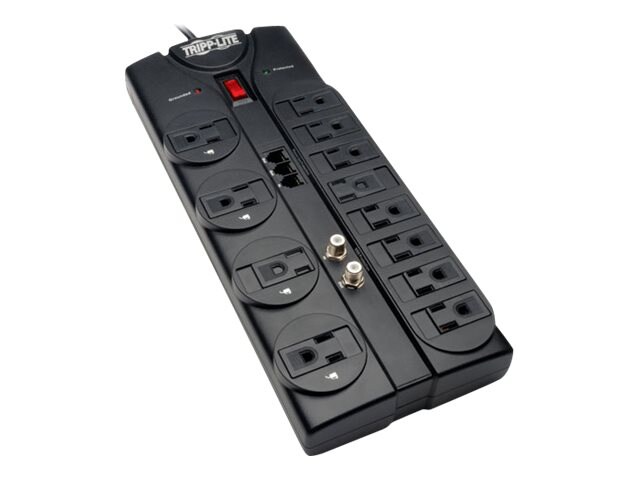 Quick tech specs
AC surge suppression for protection of workstations,PCs,telecom systems,home electronics and other sensitive equipment
Diagnostic LEDs to warn of suppressor damage
Surge rating: 2880 Joule Protection!
$150,000 Lifetime Insurance and Lifetime Tripp Lite Warranty
12 outlets and 8-ft. cord with a space-saving right-angle plug
Built-in RJ11 jacks prevent surges from damaging your modem/fax/phone equipment
Power Strip/ Power Distribution Strip/ Surge Suppressor/ Surge strip
View All
Know your gear
Tripp Lite's TLP1208TELTV offers economical AC surge suppression for protection of workstations, PCs, telecom systems, home electronics and other sensitive equipment. The TLP1208TLTV features 12 outlets, an 2.43 m (8-ft.) cord with a space-saving right-angle plug, and diagnostic LEDs to warn of suppressor damage. The unit has a surge suppression rating of 2880 joules to shield equipment from line noise and the strongest surges. Built-in RJ11 jacks prevent surges from damaging your modem/fax/phone equipment. Built-in digital 2.2GHz coax jacks prevent surges from damaging your cable/satellite equipment.
Tripp Lite Surge Protector 12 Outlet 120V RJ11 Coax 8' Cord 2880 Joule - su
is rated
5.00
out of
5
by
15
.
Rated

5

out of

5
by
MetroCH
from
Working great
I bought this in May 2011. I have had no problems with it. I bought it because it had the highest threshold of protection. So far, I have been luck and have not had any electrical surges that my computer equipment needed protection from. I especially like the orientation of the outlets and spacing so they can all be used.
Date published: 2014-10-14T00:00:00-04:00
Rated

5

out of

5
by
trusty_buddy
from
Five Star for this product!
Last year I bought a similar Surge Protector from "B" brand name for a cheaper price, but I returned it right away because its telephone jack did not work as expected. Then I found this Tripp-Lite product, installed it, tested it, and it works well since the beginning. It has been a year by now, and I am very satisfied with its performance. Although this Tripp-Lite item costs me a few bucks more than other brands with comparable features, in the long run I figure it will pay for itself due to its quality protections for my electronic devices as well as I'm counting on its lifetime warranty promise from Tripp-Lite. Now that's a peace of mind that deserves my full Five Star rating!
Date published: 2015-12-03T00:00:00-05:00
Rated

5

out of

5
by
K.P.
from
Surge Protector and Beyond.
I love having 12 outlets on this. surge protector for exspantion if needed.
Date published: 2016-01-28T00:00:00-05:00
Rated

5

out of

5
by
shi
from
great surge protector
lovethatihave 12 outlets with this one. we've bought two...so far. plan on buying at least two more. if the warranty holds true, its the perfect protector, for the perfect price. i highly recommend.
Date published: 2017-01-28T00:00:00-05:00
Rated

5

out of

5
by
Norman
from
I'd by again
Plenty of outlets, nice long cord. It is supposed to have a safety cover on the outlets but I don't see them. Maybe they are internal?
Date published: 2019-05-29T00:00:00-04:00
Rated

5

out of

5
by
Bernadette
from
I would buy it again.
It's doing what I want it to do. I've not had any surges so don't know if it will protect.
Date published: 2019-07-21T00:00:00-04:00
Rated

5

out of

5
by
RichyP
from
Waiting for a really good thunderstorm...
Happy so far w/ my new Tripp-Lite surge protector. Very well made, plenty of room to plug everything in, and a great warranty to back everything up. Yes, they might cost a little more, but it just doesn't make sense to go cheap on an item like this. No problems here.
Date published: 2016-12-27T00:00:00-05:00
Rated

5

out of

5
by
Rob
from
I bought 3 Tripp-Lite Surge Protectors * Highly Recommend
Excellent product to protect your Electronic Investments. I will Recommend this Tripp- Lite model first before all other Surge Protectors.
Date published: 2016-10-29T00:00:00-04:00
Rated

5

out of

5
by
DarkHawk
from
Affordable and Excellent Quality
I use this to safeguard my computer and gaming systems. It has plenty of space for cords, has lights to let me know if it is working, and is fairly compact.
Date published: 2016-04-13T00:00:00-04:00
Rated

5

out of

5
by
Steve
from
I wanted the best protection for my PCs
Recently, my wife and I experienced a nightmare due to the neutral wire supplying power to our home being damaged. This problem caused massive damage to several appliances and melted all of our surge protectors. When I purchased new protectors, I wanted the best. After reading several reviews of many surge protectors, I knew Tripp Lite was the product I would select. I feel very confident in their performance.
Date published: 2016-07-26T00:00:00-04:00