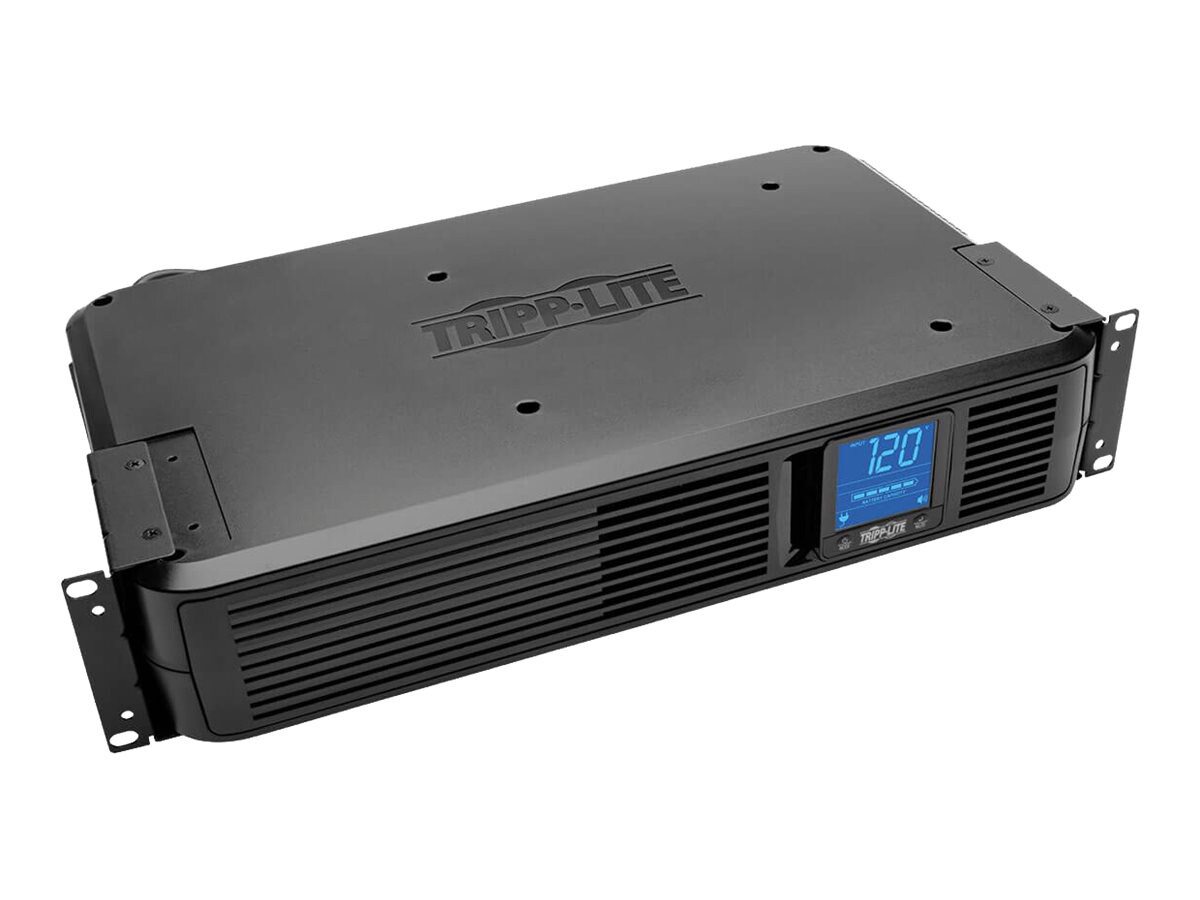 Quick tech specs
Smart Line-Interactive Sine Wave Uninterrupted Power Supply provides Battery Backup through blackouts/ voltage fluctuations and surge
Automatic Voltage Regulation corrects brownouts/ over-voltages without using battery power
High 98% efficiency in line power mode
3 Year Tripp Lite Warranty and $250,000 Lifetime Insurance
Ideal for desktop computers and audio/visual equipment
Supports a half-load up to 12 min and a full load (900W) up to 4 min
8 protected NEMA 5-15R outlets
View All
Know your gear
The SMART1500LCDXL SmartPro LCD 120V, 1500VA/900W Line-Interactive Uninterruptible Power Supply provides battery backup and AC power protection against blackouts, brownouts, power surges and line noise that can damage electronics or destroy data. Ideal for backing up your desktop computer or audio/visual components, this line-interactive UPS switches to battery backup mode in milliseconds to keep your connected equipment running long enough to save files and shut down safely with no data loss.

Eight NEMA 5-15R outlets protect against surges, as well as provide up to 12 minutes of UPS battery support at half-load (450W) and 4 minutes of support at full load (900W). You can get even more runtime by connecting an optional BP24V15RT2U external battery pack.

Automatic voltage regulation (AVR) corrects severe undervoltages as low as 75V and overvoltages as high as 147V without using any battery power. EMI/RFI noise filtering improves your equipment's performance and prevents damage. A 1038-joule surge suppression rating protects your equipment from harmful power surges.

Space-saving NEMA 5-15P right-angle plug with 6-foot cord connects to any NEMA 5-15R socket. Large rotatable LCD screen shows real-time input voltage, load, AVR, remaining battery runtime and battery statuses at a glance. With Tripp Lite's PowerAlert software (available via free download), the SMART1500LCDXL enables safe unattended system shutdown and file saves in case of a prolonged power failure.
Tripp Lite UPS Smart 1500VA 900W Rackmount AVR 120V LCD USB DB9 Extended Ru
is rated
4.60
out of
5
by
5
.
Rated

5

out of

5
by
Joel the IT guy
from
They stand behind their products
I have one in our server/network rack in our new building. The first power loss we experienced the UPS failed with a battery error. I contacted them and, after some minor troubleshooting steps to verify the failure, a new one was on the way. I received the replacement unit and returned the defective unit. I have had no problems with the replacement unit.
Date published: 2017-08-14T00:00:00-04:00
Rated

5

out of

5
by
Ekim Snevets
from
It's good to see that top quality still means something.
I've been a fan of Tripp Lite products since I purchased my first Isobar. I have a lot of equipment that I need to protect from power issues.
Date published: 2018-05-30T00:00:00-04:00
Rated

5

out of

5
by
Mikero
from
This UPS is a lifesaver
Mine lasted about 3 years through numerous electrical storms and power outages. I'm sure it saved the lives of my devices. I couldn't ask for more.
Date published: 2017-11-19T00:00:00-05:00
Rated

5

out of

5
by
Big D
from
Wonderful product!
Thank you so very much for a wonderful product with a awesome warranty to protect my valuable devices.
Date published: 2018-12-15T00:00:00-05:00
Rated

5

out of

5
by
Mike
from
Excellent solution for SoHo server.
I run a satellite SoHo with Enterprise grade hardware. Having a battery backup to begin with is a relief. This allows me to protect our Firewall, Server, Switch and WiFi router from outages, surges and brownouts. I bought this one because it can handle extended runtime with an expansion pack.With everything connected, I get about 15 to 35 minutes of runtime depending on load.
Date published: 2018-10-27T00:00:00-04:00
Rated

5

out of

5
by
Big D
from
Wonderful product, with amazing performace.
Thank you so very much for a great product and wonderful protection plan for my equipment!
Date published: 2018-12-15T00:00:00-05:00
Rated

5

out of

5
by
PTarver
from
Great power unit! I'm a very happy customer!
I had an older non-rack mounted UPS from another vendor being used to supply power a couple of rack servers in my small business. When the unit began to fail, I decided to give Tripp-Lite products a try and I purchased this device because it was rack-mountable and the price was excellent. This unit provided us with a 50% increase in VA rating and it more UPS protected outlets over the failing UPS. Installation was quick and easy. I didn't give it 5 stars ONLY because the battery isn't serviceable in this unit, but the upgrade to daisy chain an add-on external battery is intriguing. Overall a great product at a great price for any small business.
Date published: 2017-11-10T00:00:00-05:00
Rated

5

out of

5
by
Larry E
from
Works well
I have this unit rack mounted in a 15U cabinet. Works well, but a little bit noisier than my Smart 1500LCDT unit.
Date published: 2018-01-28T00:00:00-05:00
Rated

5

out of

5
by
Cario ,AV Guy
from
Tripp Lite Smart 1500LX
We use this product inside several racks protecting our teleconference and AV equipment. The unit works well and is very dependable but just be sure to test unit periodically and keep it free and clear of dust buildup and it could last you a very long time. We found that the fans will begin to knock and run very loud if there is any dust build up. It would be nice to have a filter to help keep dust away from fan and internal parts. The filter would be a line of defense and easy to clean and would not constrict the air flow unit needs to cool its self. I recommend this product for protection and back up power.(don't forget I would like design improvement ideal credits if any portion of ideal is used)
Date published: 2016-12-27T00:00:00-05:00
Rated

5

out of

5
by
Tunaman
from
This UPS lives up to all my expectations - Highly recommended!
The SMART1500LCDXL has plenty of capacity for a Home/Office PC setup with plenty of room to spare. My normal full load with the PC, monitor, cable modem, wireless router, USB hub, Cordless phone, 3-piece speaker system and a desk lamp comes to only 300 watts. The 6 power outlets fed all my backup power needs. The LCD readout provides all the information you could want and allows you to customize the display to your specific needs. When my normal power fails, I have high confidence that my system will continue to operate normally until I safely shut it down.
Date published: 2013-09-18T00:00:00-04:00