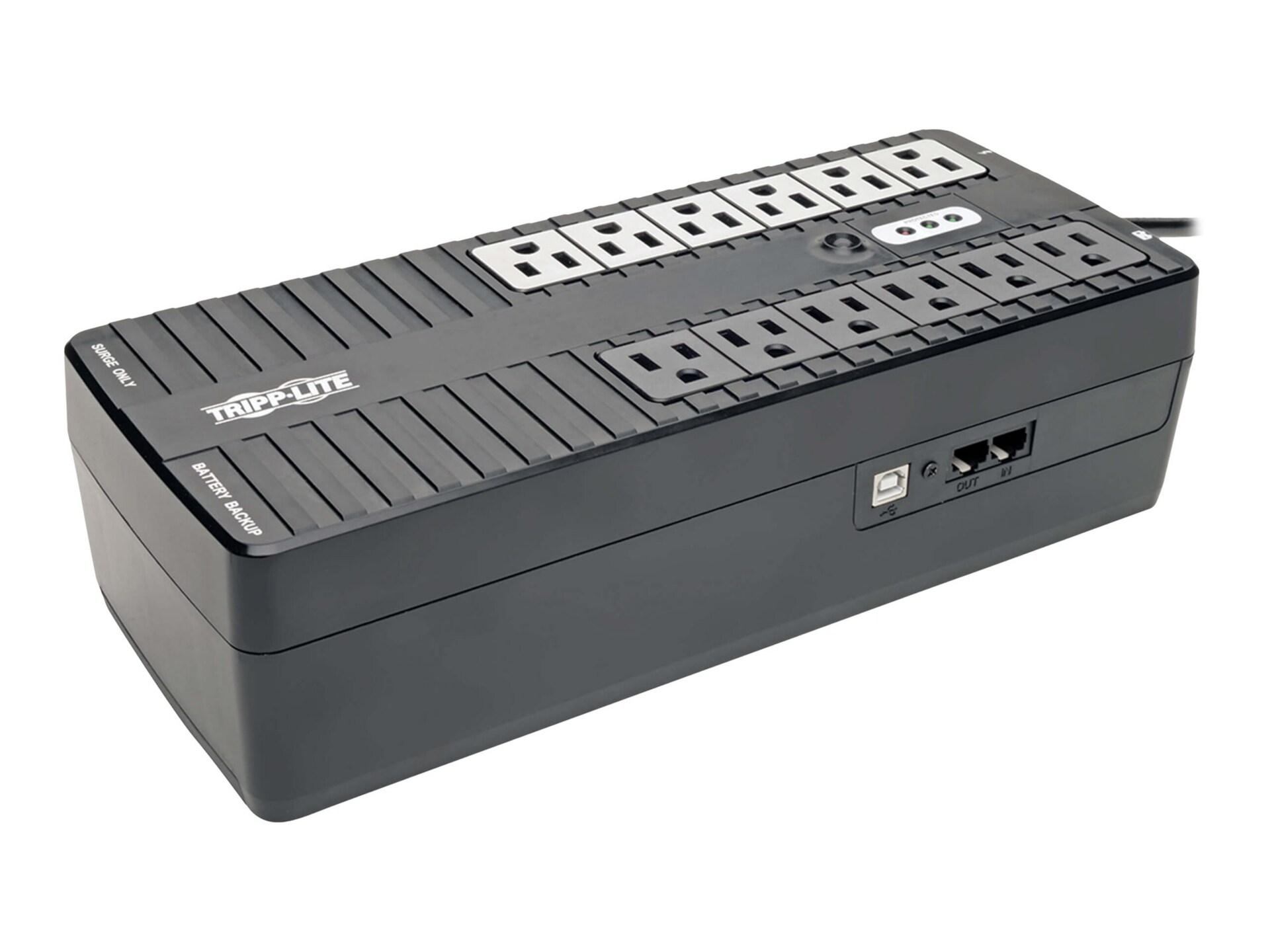 Quick tech specs
Standby UPS offers complete protection from blackouts brownouts and surges on AC and tel/DSL dataline connections
6 battery-supported outlets protect computer monitor and other vital system peripherals/ 6 surge suppression-only outlets
$100,000 Lifetime Insurance/ 3 Year Tripp Lite Warranty
12 widely spaced outlets accommodate large transformer plugs w/o blocking outlets- desktop UPS/ compact ups
Energy Star Qualified
View All
Know your gear
The standby INTERNET900U UPS system provides reliable battery backup and AC power protection against blackouts, brownouts, overvoltages, surges and line noise that can damage valuable electronics or destroy data. The 12-outlet 120V battery backup is ideal protection for your home office, media center or commerce components, including computers, routers, printers, NAS drives, HDTVs, Blu-ray players, game consoles, media players, DVRs and audio receivers.

Backup support allows you to work through short power failures and gives you enough time to safely save files and shut down your system in case of a prolonged blackout. Backup time varies according to load, but the INTERNET900U should keep an energy-efficient desktop computer with small LCD monitor powered as long as 41 minutes. During normal operation, incoming utility power keeps the replaceable internal battery fully charged, so backup power will always be available.

Six 5-15R outlets provide battery backup and surge protection for your computer, monitor and other crucial components. The other six 5-15R outlets provide surge suppression only for printers, speakers and other desktop equipment regarded as non-essential during a blackout.

By meeting strict EPA efficiency guidelines, this ENERGY STAR-certified UPS system helps you save money and energy. A high >98% line mode efficiency rating reduces BTU emissions, energy consumption and, ultimately, your energy costs.

A 316-joule surge suppression rating protects connected components from the harmful effects of power surges. Dual network data line surge suppression jacks protect a wired peripheral from dangerous surges on a single 10/100Base-T or dial-up network connection.

This USB port connects the INTERNET900U to a computer running Tripp Lite's free downloadable PowerAlert software to enable safe unattended file saves and system shutdown in case of a prolonged power failure. USB cable is included. Battery independent restart ensures automatic UPS power-up without user interaction after lengthy power outages, even when batteries are expired and require replacement.

Various electromagnetic and radio sources found in virtually every home and business can cause disruptive interference on the AC line. Known as EMI (electromagnetic interference) and RFI (radio frequency interference), this line noise is a common cause of performance problems and can lead to incremental hardware damage, data corruption and audio/video transmission problems. The INTERNET900U incorporates technology that filters out disruptive line noise so that it won't affect your equipment.

The UPS remains silent in both line and battery backup modes. The alarm sounds only to warn you of a low battery or fault condition. Front-panel LEDs indicate operating mode, low- and replace-battery, overload and fault conditions.

The space-saving ABS housing fits on a desktop, shelf or anywhere else convenient to your workstation or home theater. Keyhole mounting tabs on the rear allow easy wall-mount installation. The five-foot power cord with NEMA 5-15P plug connects to any compatible AC outlet.


Tripp Lite Internet Office INTERNET900U
is rated
5.00
out of
5
by
10
.
Rated

5

out of

5
by
Pat
from
Tripp-Lite a dependable Product.
After 8 years I had to replace one of my dependable Tripp-lites that protectes my desktop PC's. I was pleased to see the upgrades such as a USB option for my laptop and other products. It was easy to set up and is working like the other Tripp-Lite top notch products that I have had in the past. Tripp Lite has protected my PC's for years and I can't imagine even considering another product. Way to go Tripp-Lite
Date published: 2018-11-08T00:00:00-05:00
Rated

5

out of

5
by
Gate Host
from
Great Product for Small or Big Business
This product was easy to setup and the software that it came with was easy to navigate and use. It is also reiable and the build quality will last for years to come.
Date published: 2018-12-05T00:00:00-05:00
Rated

5

out of

5
by
Alma
from
Good product.
I use this for my home computer and peripherals. Had no trouble setting it up. No problems so far. I've had UPS units for a long time.
Date published: 2019-06-02T00:00:00-04:00
Rated

5

out of

5
by
Lawrence
from
Great options for battery backup as well as surge protectio.
Easy to setup and feel confident that the product will protect my equipment.
Date published: 2019-07-17T00:00:00-04:00
Rated

5

out of

5
by
Allie
from
Yes I would buy this product again
I use the product to protect my electronics from power surges, brownouts, etc. It has come in handy when there was a sudden power failure and I was able to shut down my computer properly because of the battery backup.
Date published: 2018-10-11T00:00:00-04:00
Rated

5

out of

5
by
Wyn
from
Can't be beat
The worst thing I can think of is my desktop shutting off right in the middle of an operation. Not only could it damage my PC's hard drive, but I'd lose any information I inputted into it. Always want to be better safe than sorry.
Date published: 2018-10-11T00:00:00-04:00
Rated

5

out of

5
by
Robert
from
Awesome UPS for the money!
Mounted this under my desk and the very next day the power went out while I was working on my PC. This little beauty kept my PC, KVM and 42 inch monitor up and running while I gracefully shut down. Talk about a timely purchase! I haven't set up the USB connection to automatically shutdown yet...but it ha this ability...and the cable you need for the connection. That will be my next project.I highly recommend this if you have a home office like me. It has already come in handy!
Date published: 2019-01-27T00:00:00-05:00
Rated

5

out of

5
by
Gordon
from
Performing reasonably as expected
This device seems to be working great so far, I have only noticed two "anomalies" in the first month of use. One is for some reason the PowerAlert software was finding more than one instance of the device when called up. I usually check the logs after an event to see what happened. The second situation was on the last low power (surge) event, the PowerAlert software lost contact with the device. I followed the instructions in the troubleshooting manuals for clearing the data, and the reset worked, the software found the device, so I will have to monitor device software performance going forward. Other than that, it's doing it's main job, the reason I purchased it. The software is a nice addition but not really required for my use, as long as it does the battery switch on power anomalies, I am a happy customer. I have been through about 3 loss of power and brownout situations so far, and it performed its main function perfectly, which was to switch to battery so I don't lose my internet or data.
Date published: 2019-01-30T00:00:00-05:00
Rated

5

out of

5
by
Tobeyjoe
from
Nice Product
I have this product connected to my internet router. It has save it from several power outages.
Date published: 2014-10-29T00:00:00-04:00
Rated

5

out of

5
by
SHARK
from
So far,so good.
I just put it in service 2 Nov. 18. We haven't lost power since then, so it's hard giving an honest review. If we loose power,which hopefully we won't, I will write another review.
Date published: 2018-11-22T00:00:00-05:00