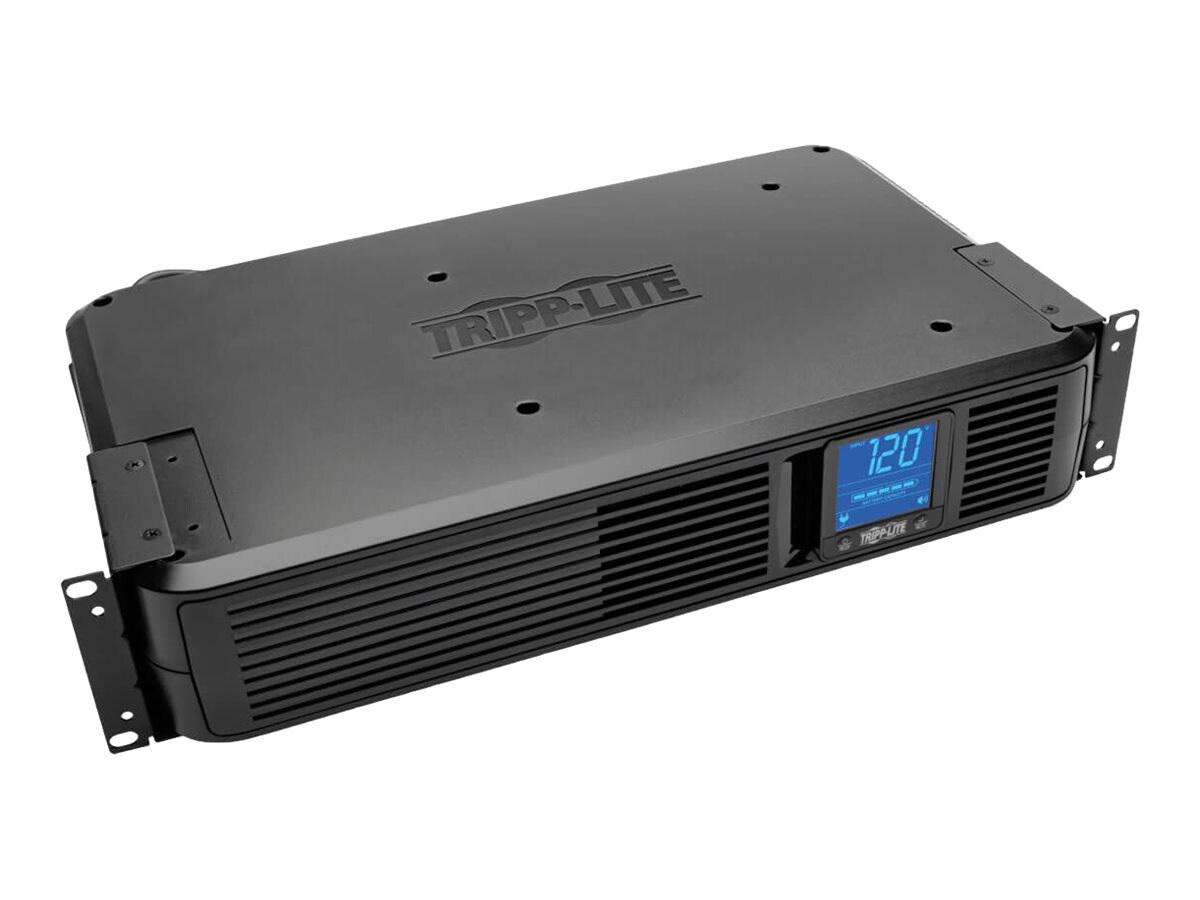 Quick tech specs
Smart Line-Interactive Sine Wave Uninterrupted Power Supply provides Battery Backup through blackouts/ voltage fluctuations and surge
Automatic Voltage Regulation corrects brownouts/ over-voltages without using battery power
High 98% efficiency in line power mode
3 Year Tripp Lite Warranty and $250,000 Lifetime Insurance
Ideal for desktop computers and audio/visual equipment
Supports a half-load up to 11.8 min and a full load up to 4.4 min
8 protected NEMA 5-15R outlets
View All
Know your gear
The SMART1500LCD SmartPro LCD 120V, 1500VA/900W Line-Interactive Uninterruptible Power Supply provides battery backup and AC power protection against blackouts, brownouts, power surges and line noise that can damage electronics or destroy data. Ideal for backing up your desktop computer or audio/visual components, this line-interactive UPS switches to battery backup mode in milliseconds to keep your connected equipment running long enough to save files and shut down safely with no data loss.

Eight NEMA 5-15R outlets protect against surges, as well as provide up to 11.8 minutes of UPS battery support at half load (450W) and 4.4 minutes of support at full load (900W). Automatic voltage regulation (AVR) corrects severe undervoltages as low as 75V and overvoltages as high as 147V without using any battery power. EMI/RFI noise filtering improves your equipment's performance and prevents damage. A 480-joule surge suppression rating protects your equipment from harmful power surges.

NEMA 5-15P plug with 1.83 m (6-ft.) cord connects to any NEMA 5-15R socket. Large rotatable LCD screen with dimmer shows real-time input voltage, overload, AVR and battery statuses at a glance. Alarm sounds to indicate power loss or low battery. With Tripp Lite's free PowerAlert software (available via free download), the SMART1500LCD enables safe unattended system shutdown and file saves in case of a prolonged power failure.


Tripp Lite SmartPro SMART1500LCD
is rated
4.76
out of
5
by
46
.
Rated

5

out of

5
by
Jason
from
Great Value Rack Mount UPS
A network managed option would make this a Five Star product in my book. Excellent overall value with a clean design and great features for a reasonable price.
Date published: 2017-08-08T00:00:00-04:00
Rated

5

out of

5
by
Pyrodyne
from
SMART 1500 LCD UPS
I'm a small engineering design firm business owner, where Computer Aided Design is a fundamental requirement. We are based in a geographical are subject to frequent intense summer storms. As such, it is absolutely essential that our systems be protected from data loss. Every workstation we have is protected by a Tripp-Lite SMART 1500 LCD UPS. During the past 10 years, we have not suffured any data loss due to power grid surges or interruptions, nor have we experienced any issues with our Trip-Lite UPS units. The value and peace of mind that trip-Lite equipment represents to our business is immeasurable.
Date published: 2013-09-06T00:00:00-04:00
Rated

5

out of

5
by
Ed
from
Never had a problem!
I purchased this unit (SMART1500LCD) after my power company cost me an entire entertainment system. I lost a 48" LCD, Sony amp, and Blue Ray machine to a series of major spikes to my home. Yes, I said the power company bought me new equipment. They had no problem including my Smart1500LCD. I have never had a problem since my system was replaced! I have spikes and brown outs still but with the Smart1500LCD everything remains protected.
Date published: 2013-09-05T00:00:00-04:00
Rated

5

out of

5
by
ellie
from
Has worked perfectly for the few years I've used it.
It's so important to have a backup battery attached to my computer when the power blinks or goes off. And this battery has come through every time.
Date published: 2013-09-05T00:00:00-04:00
Rated

5

out of

5
by
Roger
from
emergency response
South Texas rural Health Services resides na South Texas area covering Encinal Devine Eagle Pass and several cities in between the data center is located in Cotulla Texas recently I had just installed our new Tripp Lite device and unannounced the electric company AEP decided to shut down power for a 20 block area or businesses and homes are located this unannounced breakdown did cause some concern but the entire network remained up and functional and operational for those that had additional personal backup power supplies installed on their workstations great job Save the Day power was back up an hour later but we continued to work thanks again
Date published: 2016-06-13T00:00:00-04:00
Rated

5

out of

5
by
Stu
from
In less than one month, has made a major save
We've got a third-world power supply in our Denver suburb neighborhood. A little wind or light snow and the power's out. Apparently Excel doesn't know how to do proper tree trimming, and so neighbors' trees are constantly shorting the wires. I purchased two of the SmartPro LCD's: one to backup the media cabinet and provide a charging source for our phones; the other to power the wireless router, internet phone, and a couple of aquarium LED's that are a real pain to re-program if the power is dropped (if we're home we turn off the aquarium lights, so the backup power just keeps the timers powered). I travel half the month (airline pilot), and sure enough while talking to the family the other day from India the wind back home picked up and down went the power. I could hear the beeping of the TrippLite unit upstairs, indicating that it had picked up the power. Beautiful! My wife had gotten the brief before I left, and silenced both units. We then continued to have our phone conversation, and even skype'd over the computers a little later. These power supplies are life-savers, and when they're not picking up the power in an outage, they're saving our expensive media and computer equipment from all the inevitable power fluctuations from our - again - third world utility. Installation is easy, and the display and operation are totally intuitive. I'll never not have these things!
Date published: 2016-04-25T00:00:00-04:00
Rated

5

out of

5
by
BumpassBrawn
from
Lasts forever
I used this for over 10 years without changing the battery
Date published: 2017-11-18T00:00:00-05:00
Rated

5

out of

5
by
EdRFTrippLite
from
Excellent quality, reliable.
I was using a ups from APC. I tought all UPS were expensive and that APC was the leader in the industry. I used to buy low end UPS from them because I could not afford their 1000+ devices. When I first saw the SMART1500LCD I was skeptical. This bad boy showed me that great quality doesn't have to break your bank. It's been running strong since day one and after a year it has excelled were other APC products have burned down. I have black outs twice a day almost every day. Temperatures here in San Juan PR are hot all year around. This is a tough product. Buy it!
Date published: 2011-12-20T00:00:00-05:00
Rated

5

out of

5
by
jjp57
from
Great Product.
I live in Florida where we get many brown outs due to the weather. This unit has kicked in every time.
Date published: 2013-09-05T00:00:00-04:00
Rated

5

out of

5
by
Rlmondrian
from
The UPS worked as expected
Out of the box the product did what I expected keeping my system safe from many power faults.
Date published: 2014-10-01T00:00:00-04:00