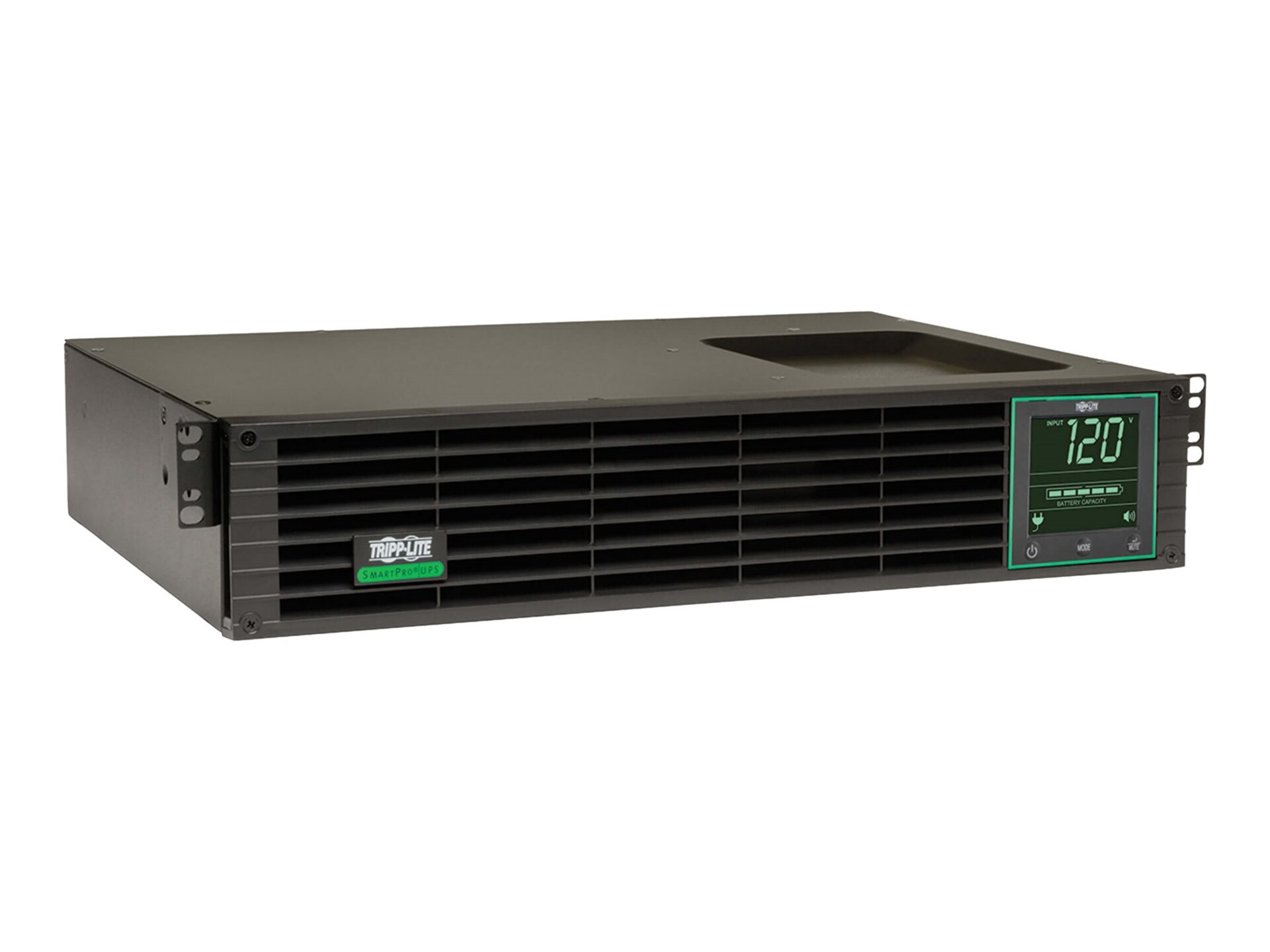 Quick tech specs
Smart 2U Rack-Mountable Sine Wave Uninterrupted Power Supply with Lithium Battery provides Backup power through blackouts voltage fluctuations and surges
Automatic Voltage Regulation (AVR) corrects brownouts and over-voltages without using battery power
20 min. runtime half load; 8.3 min. full load
Ideal for critical server network and telecommunications equipment
6 NEMA 5-15R outlets—4 switchable
5 year Tripp Lite Warranty/$250,000 Lifetime Insurance
View All
Know your gear
This Tripp Lite SmartPro UPS lithium battery backup features a state-of-the-art lithium iron phosphate (LiFePO4) internal battery with longer life, more cycles and faster recharge. It more than doubles the service life of an equivalent lead acid battery, and offers up to three times more charge/discharge cycles. It recharges to 100% capacity in less than three hours, making the lithium UPS system an ideal backup in case of power outage. The LiFePO4 battery has 60% the weight of an equivalent lead acid battery, which reduces the overall UPS weight.

The SMART1000RM2UL provides up to 20 minutes (half load) and 8.3 minutes (full load) of battery backup, as well as AC power protection, for critical server, network and telecom equipment. In case of a prolonged blackout, the single-phase lithium UPS system gives you enough time to save important data and perform an orderly system shutdown.

With an 800W capacity (1000VA), the line-interactive UPS system with automatic voltage regulation (AVR) maintains regulated 120V nominal output over an input range of 83V - 147V without using battery power. Conserving power allows your LiFePO4 battery to last longer and maintain full capacity until needed.

Plug your equipment into the six NEMA 5-15R outlets. Four outlets are split into two dual-outlet load banks that are switchable via network interface. These four outlets let you power connected equipment on and off remotely to reset or reboot connected equipment or to shed less significant loads to extend battery runtime for more critical equipment. All six outlets are protected by 570-joule network-grade surge protection to fight off damaging power surges and spikes.

This UPS system filters out disruptive electromagnetic and radio frequency interference that can inflict hardware damage or data loss. This EMI/RFI filtering also helps your connected components perform better and last longer.

Operating with a high 95% line-mode efficiency, the 1kVA UPS system can save BTU heat output and energy costs.

USB and DB9 ports (cables are included) enable data-saving unattended shutdown when used with Tripp Lite's free downloadable PowerAlert software. Capabilities include detailed monitoring of equipment load levels, self-test data and utility power condition. The Emergency Power Off (EPO) interface offers options for instantaneous power-off of the UPS system and connected equipment in case of fire or other facility emergency.

The SMART1000RM2UL is compatible with Tripp Lite network management cards, such as WEBCARDLX, for detailed monitoring of UPS and site power conditions.

The front-panel LCD information and configuration screen displays detailed UPS and site power status and operating data, as well as input and output voltage, operating mode, alarm function and additional options. An alarm sounds to warn you of power failure, low battery, overload, UPS fault and remote shutdown conditions. The LCD screen rotates for easy viewing in rack-mount or tower configuration.

Hardware is included for mounting the Tripp Lite SmartPro UPS system in 2U of space in an EIA-standard 19-inch 4-post rack. Use the 2POSTRMKITWM (sold separately) for 2-post rack mounting or wall mounting or the UPSHDEARKIT (sold separately) for 2-post front-mount installation.