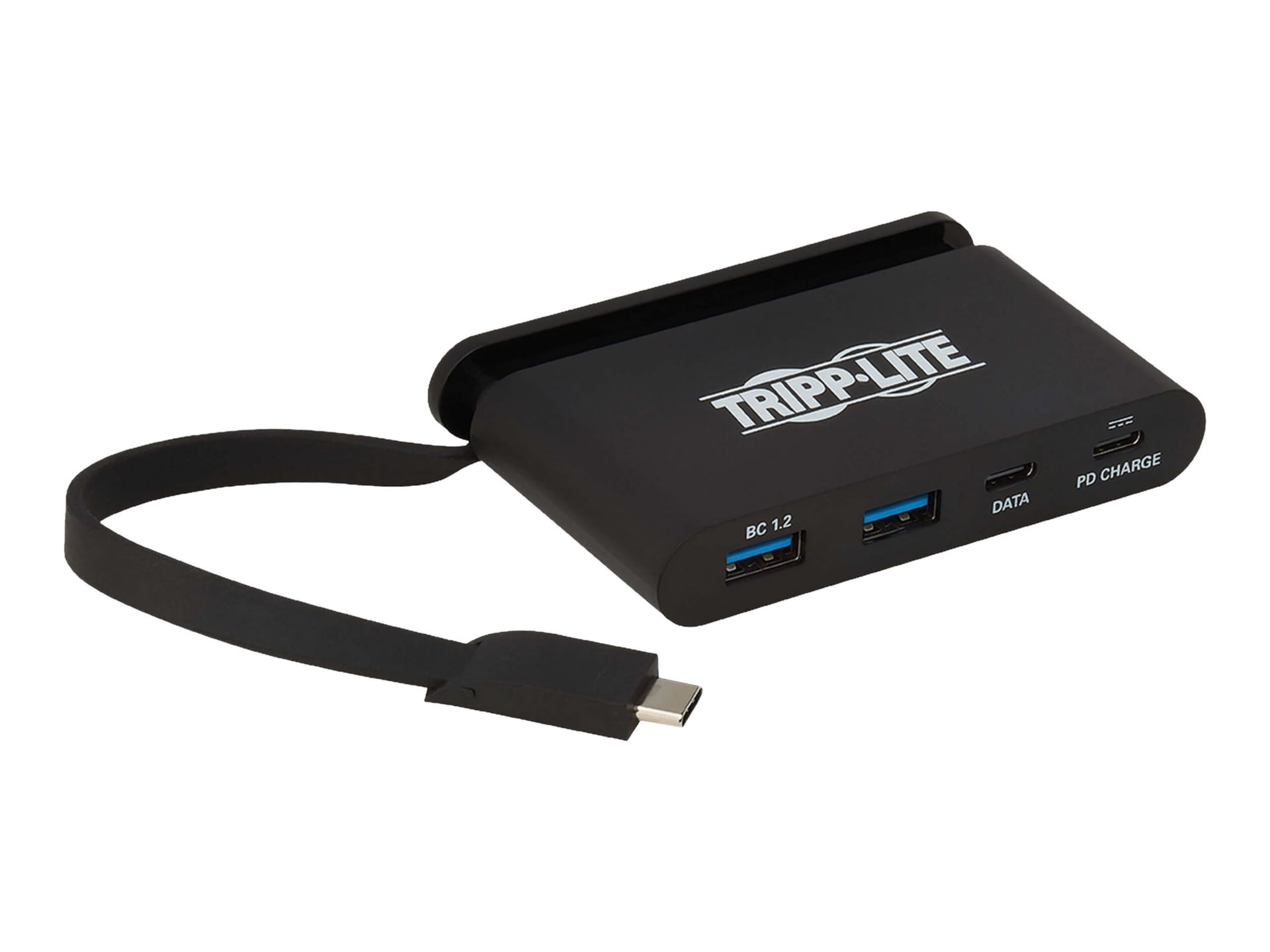 Quick tech specs
Adds 2 USB-A,1 USB-C port and 1 USB-C PD Charging port to the USB-C or Thunderbolt 3 port on your tablet,laptop,notebook,M- acBook,Chromebook,smartph- one or PC
USB-C PD 3.0 Charging port provides up to 100W (5V 2A) for charging devices
USB-A ports provide up to 0.9A each for charging devices
Supports USB 3.1 Gen 2 data transfer rates up to 10 Gbps
Self-storage 6" USB-C cable for easy stowing and travel
Multiport Hub/ Type C Port/ Type C Hub/ USB-C Hub/ USB Type C Hub
View All
Know your gear
This USB-C hub allows you to connect up to four USB peripherals to your tablet, laptop, notebook, MacBook, Chromebook, smartphone or PC. Not only can you expand the potential of your device by connecting USB peripherals, such as an external hard drive, flash drive, power meter and printer, but you can also power and fast-charge the device through the USB-C Power Delivery (PD) 3.0 port.

The USB-C PD charging port provides power output up to 5 amps (100 watts), which is more than sufficient for charging and powering the connected device, such as a MacBook or Chromebook. Just connect the device's AC wall charger to the USB-C PD port to enjoy lightning-fast data transfer speeds up to 10 Gbps.

In addition to accepting USB peripherals, the dual USB-A 3.0 ports provide up to 0.9 amps each for charging and powering mobile devices. The USB-C data port provides up to 1.5A for charging devices. All four USB ports transfer data at speeds up to 10 Gbps, which is twice as fast as USB 3.1 Gen 1. The USB ports are backward compatible with previous USB generations, so you can continue using older peripherals while getting high-speed performance from new devices.

Connect the reversible USB-C plug to your source device's USB-C or Thunderbolt 3 port. The fumble-free USB-C plug connects in either direction to ensure fast, easy connection every time. The six-inch cable wraps into the adapter when not in use, making the unit easy to carry in a briefcase or laptop bag for connecting on the go.

The plug-and-play USB Type-C hub is specifically designed for use with the MacBook, Google Chromebook Pixel and other laptops, tablets and devices equipped with a USB-C or Thunderbolt 3 port. It requires no software, drivers or external power.