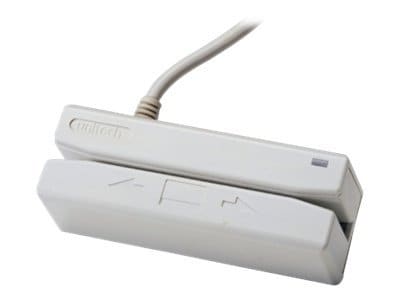 Quick tech specs
Magnetic card reader (Tracks 1 & 2)
beige
View All
Know your gear
Unitech's MS240 reader provides a simple, reliable, and versatile magnetic stripe reading solution for all your MSR needs. The MS240 is the perfect MSR tool for applications such as point of sale, access control, and self-service applications. Known for their reliability, they are easy to install and use.

The MS240 is available in dual and triple track configurations for reading ISO cards and driver's licenses. Readers can be affixed to most computer keyboards or to any flat surface, and connected to any PC or Mac via keyboard wedge or USB interface.

No programming, software drivers, or external power is required. Just connect the reader to the keyboard and the keyboard port or a USB port on almost any PC or Mac and you're ready to read magnetic stripe cards. Data is read from the card and sent to the PC or Mac just as if it were entered from the keyboard. The MS240 is low-power CMOS, so no external power source is required.

The MS240 can, however, be programmed to output your data exactly according to your requirements via the revolutionary Reader Configuration Manager software, available only for Unitech card readers. RCM is an easy to use Windows application that communicates your specific data output requirements directly to your MSR240. (MS240s connected to Macs might need to be configured via PC.)

Cards can be swiped and read in both directions. An LED provides feedback to the user indicating ready to read or read error.