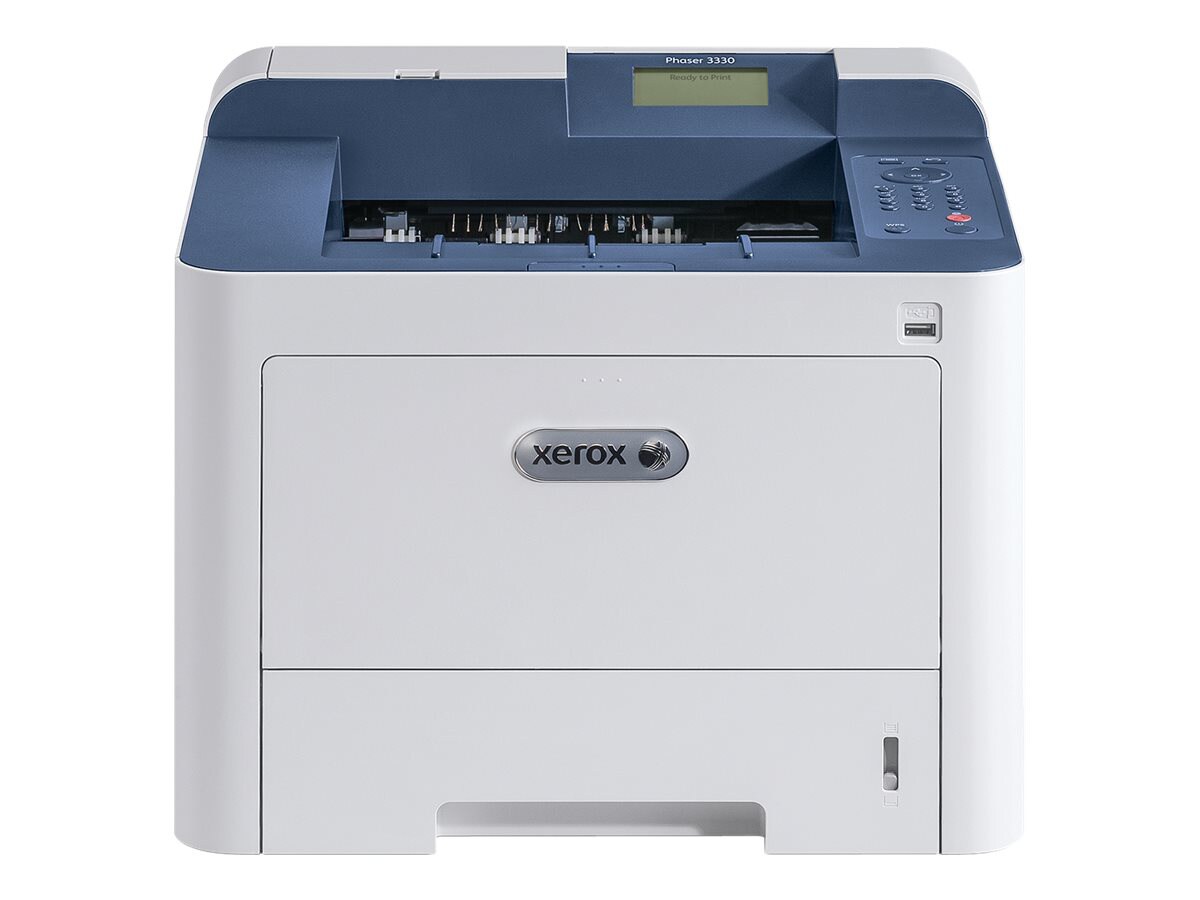 Quick tech specs
Printer
Duplex
A4/Legal
up to 42 ppm
View All
Know your gear
The Phaser 3330 Printer boosts productivity with easy connectivity, day-in, day-out dependability and transformative features- ready to work.
Xerox Phaser 3330/DNI - printer - monochrome - laser
is rated
3.00
out of
5
by
12
.
Rated

5

out of

5
by
Bella
from
unreliable printing
the quality of the print was great however it also causes a problem with uncompleted printing errors. Our IT person had tried to fix it or reformat the program and start it new again. it had not been a reliable printer.
Date published: 2019-05-02T00:00:00-04:00
Rated

5

out of

5
by
gpo
from
this product has great features.
This product is amazing and I recommend this to others.
Date published: 2017-12-22T00:00:00-05:00
Rated

5

out of

5
by
Jen26
from
This product is great but a little slow
This is a great product how ever have had quite some trouble with the port and delayed printing/spooling.
Date published: 2018-03-28T00:00:00-04:00
Rated

5

out of

5
by
eileen204
from
Is this really a Xerox Printer?
Phaser 3330 = Nothing but trouble. Located in an educational setting in a networked environment. Using Xerox Global Print driver on print server. Either prints Big black oval blotches on papers, 2nd page usually, or prints error messages every other page! Horrible, terrible, lemon of a printer. Never had such negative feelings about a machine. Really turning me off to Xerox products. No help to be found on forums, local help desk etc.
Date published: 2019-01-03T00:00:00-05:00
Rated

5

out of

5
by
Sherry
from
none
The printer is slow to recognize the command to print, constantly says the paper tray is empty when in fact it is not, slow printing and is big and bulky.
Date published: 2019-04-08T00:00:00-04:00
Rated

5

out of

5
by
David
from
Will always give a Netwrok Error Message if USB connected
Our Office has several Xerox 3320 printers. We needed to replace one and had to get the 3330 as the 3320 is no longer available. The printer was to be used as a stand alone, connected via USB cable. The installation was performed as per the Installation Guide. The printer and drivers installed easily, but the Printer Icon showed a warning on a Windows 7 PC. The printer display also shows a warning to connect a network cable. I have disabled all of the network connection setting, as this was to be connected USB only. Technical Support indicates that the error message is normal and will always be displayed until I connect a network cable; no other way to clear it. I believe this is a design flaw or at least a misrepresentation to say this printer can be connected via USB; well it CAN be connected with USB cable, you just have to live with a constant Error Message. We will not purchase another one.
Date published: 2017-06-22T00:00:00-04:00
Rated

5

out of

5
by
Henry
from
Easy set up set up
Easy set up and fairly good price for a laser printer.
Date published: 2018-12-28T00:00:00-05:00
Rated

5

out of

5
by
tbaker
from
Good product
This is a good printer. Price was high. Print quality is good; as expected. Runs out of toner quickly and toner is expensive. Overall score is average.
Date published: 2018-10-25T00:00:00-04:00
Rated

5

out of

5
by
Chuck
from
This printer is a pile of junk
We have had the printer for two weeks. Can not get it to print labels. Support is rotten. Hate it! Putting it in the trash and ordering a HP
Date published: 2018-01-19T00:00:00-05:00
Rated

5

out of

5
by
THERESARAMBO
from
RELIABLE OFFICE MACHINE
We have two of these machines in our office and rely on them daily for the heavy amount of paperwork we need. These printers are prompt and easy to use. Only downfall I've noticed so far is that when the ink cartridge goes out, or runs low you get a warning UNLIKE the drum cartridge. Both of these machines we have in the office showed no warning when the drum cartridges went out and both times, we were down the machines for days while we ordered new drum cartridges. We just have no room to store additional cartridges in our office, or else we could order ahead of time.
Date published: 2019-04-11T00:00:00-04:00
Rated

5

out of

5
by
JMac66
from
A Great Black & White Laser Printer
This is the 4th Phaser 3330 we have added to our office in the last year. It is fast, it duplexes, and the print quality is great. We use it to print lots of reports that do not need to be printed in color. It is a little workhorse and I would recommend it highly if you are looking for an alternative to expensive color lasers.
Date published: 2019-02-28T00:00:00-05:00
Rated

5

out of

5
by
Jerry J
from
Excellent but a minor annoyance
The Phaser 3330 is an excellent personal laser printer. It replaces an old Dell laser that was starting to fail. It works well but there's one minor annoyance and maybe no one else would be bothered by it, but I am:Every time I send a print job I get an 'out of paper' message because it defaults to the bypass tray instead of the main paper tray, which is full of paper. It eventually pulls the paper from the main tray but why do I have to get that annoying message? I don't want to use the bypass tray UNLESS I really want to use it for special printing requests and then I would select it as my choice. The default should always be the main paper tray.I tried to reset the printer settings but I haven't found the solution. If anyone has a suggestion, please pass it along.Other than that it's an excellent printer.
Date published: 2019-06-13T00:00:00-04:00