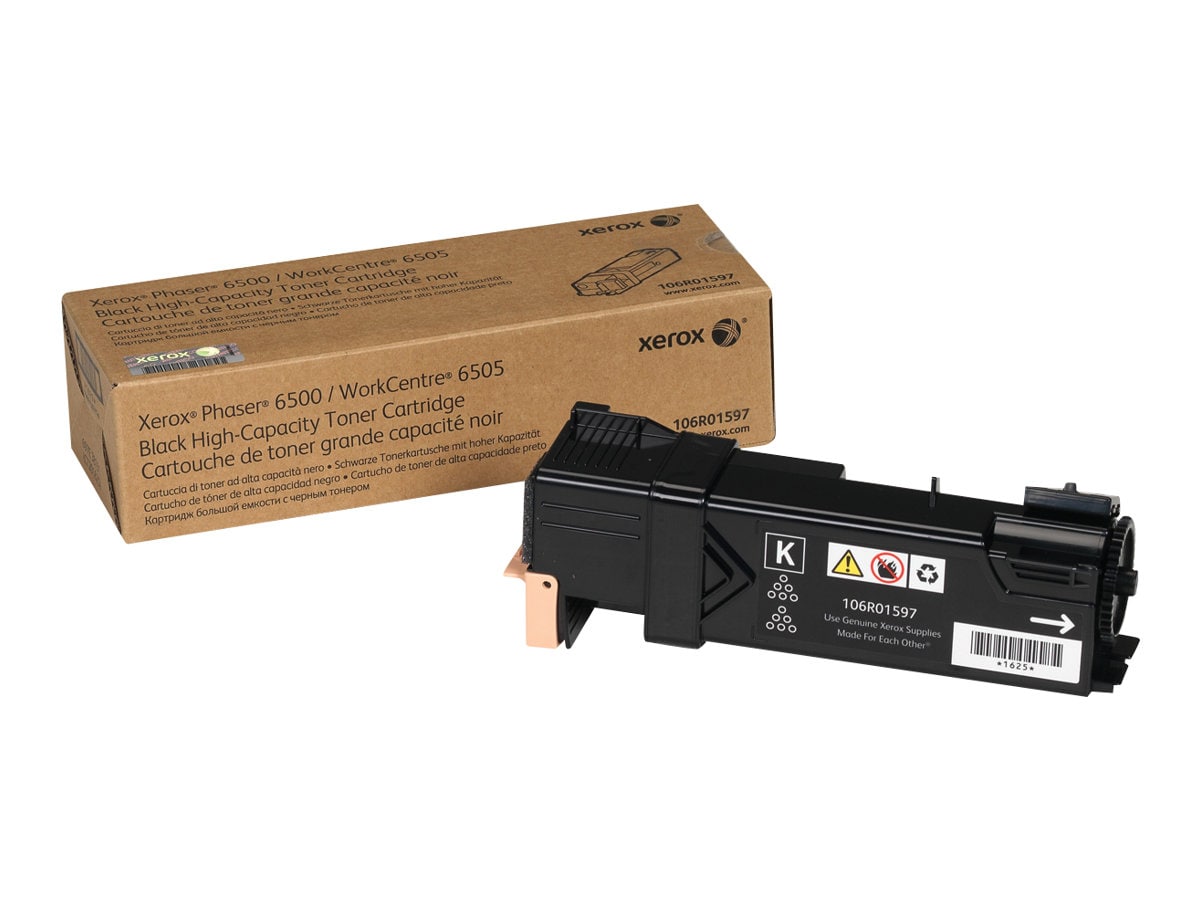 Quick tech specs
High Capacity
original
for Phaser 6500; WorkCentre 6505
View All
Know your gear
Xerox Genuine Phaser 6500/ WorkCentre 6505 Black High Capacity Toner Cartridge (3,000 pages)- 106R01597 is specially formulated and tested to provide the best image quality and most reliable printing you can count on page after page. Xerox Genuine Supplies and Xerox equipment are made for each other. Accept no imitations. Compatible toners may risk breakdown of Xerox printers and result in poor print quality and weak colors. With over 75 years' experience, Genuine Xerox Supplies are something you can rely on.
Xerox Phaser 6500 - High Capacity - black - original - toner cartridge
is rated
4.73
out of
5
by
15
.
Rated

5

out of

5
by
MotoTim
from
CDW is a Great Company to Buy From
I have always purchased Xerox cartridges for my Xerox printer and CDW has always provided them. CDW has always provide the cartridges in a timely manner.
Date published: 2020-07-08T22:33:04-04:00
Rated

5

out of

5
by
SouthShoreCarol
from
Excellent laser toner
Very easy to install and easy to dispose of empties. High quality prints every time.
Date published: 2017-10-18T00:00:00-04:00
Rated

5

out of

5
by
LJeanS
from
HP always dependable and easy to install.
HP toners are always dependable to do the job, easy to install and give great performance. HP toners give 5 star quality printing on all of the documents I have to print.
Date published: 2018-11-13T00:00:00-05:00
Rated

5

out of

5
by
TRK8554
from
Excellent Product!
Arrive in timely order, easy to install, and output is excellent. No complaints here!
Date published: 2017-05-23T00:00:00-04:00
Rated

5

out of

5
by
CMikie
from
This product produces excellent copies.
Xerox makes a great product. The copies are very legible and crisp. Keep it up.
Date published: 2017-08-23T00:00:00-04:00
Rated

5

out of

5
by
DocIan
from
This product works great
This product works great. Doesn't gunk up or cause streaks on the pages.
Date published: 2017-11-20T00:00:00-05:00
Rated

5

out of

5
by
millca
from
Excellent Xerox-branded ink
I trust CDW to sell authentic Xerox-branded ink for my Phaser 6500 printer. These high capacity toner cartridges are a much better value than the standard ones. I highly recommend this ink and the provider.
Date published: 2017-05-23T00:00:00-04:00
Rated

5

out of

5
by
Sharon
from
Makes the printer print better!
WE WERE USING GENERIC CARTRIDGES, AND HAVING TROUBLE WITH THE PRINTER. WE SWITCHED TO ORIGINAL XEROX CARTRIDGES AND OUR PROBLEMS HAVE GONE AWAY... AND THE PRINTING IS SO MUCH MORE SUPERB!!
Date published: 2017-05-17T00:00:00-04:00
Rated

5

out of

5
by
LaserLetterShop
from
disatisfied - printer would not recognize the cartridge
I have a Xerox 6500 and purchased this black toner cartridge as a 'genuine Xerox' product - as specified by Xerox. The printer does not recognize the cartridge and is now useless. I paid good money for the printer and had always been a Xerox user. The printer is not that old, has about 40k pages on it and is now junk. Options to repair cost more than a new printer would and I am very disappointed in Xerox and will have to look at other options for my next printer. I have been a Xerox user since the early 1990's and in fact my back up printer is and old P12 that is over 20 years old and STILL works! Its a shame the way the quality of product has deteriorated.
Date published: 2018-06-08T00:00:00-04:00
Rated

5

out of

5
by
Printless12
from
This product has super powers!
It's easy in business to sometimes be cynical about the value of a product, but this black toner is the real deal. A detailed analysis was run before concluding that the black toner deserved the highest ratings possible reflected in the 5 stars awarded above. First, the black toner is a critical element in my Xerox Work Centre 6505. Without it, all the output pages are white on white.Second, on't even think about trying to print in blue or red. The influence of the black toner on the remaining colors becomes evident when the supply of black toner is exhausted. None of the other colors, regardless of remaining toner levels will contribute to any readable output. Finally, the financial burden of trying to print without black toner is crushing. Just consider these costs in the ROI; remaining un-amortized cost of the printer itself, sunk costs of now idle paper inventory, and unproductive operators for the duration of the down time, versus the reduced energy costs incurred by the unused printer function (unless scanning time is sufficient to offset energy savings for not printing). My advice....buy it and use it as directed.
Date published: 2017-07-25T00:00:00-04:00
Rated

5

out of

5
by
BBell011
from
OEM toner works best for us
We have tried after market toner in our Xerox machine and had bad experiences with quality and reliability. so we only use the genuine Xerox products and have good results.
Date published: 2017-10-18T00:00:00-04:00
Rated

5

out of

5
by
Suzy
from
Easy to change out
Installing the cartridge is very easy and fast. Also mess-free from removing the old to installing the new.
Date published: 2018-05-15T00:00:00-04:00
Rated

5

out of

5
by
SMARTIEPANTS
from
GREAT FEATURES
GOOD PRODUCT. LOVE THAT ZEROX GIVES REBATES. EASE OF REPLACEMENT . CDW SERVICE IS VERY QUICK. IT ARRIVED AND I WAS SURPRISED.
Date published: 2017-05-23T00:00:00-04:00
Rated

5

out of

5
by
NancyL
from
Great Product
I always get all my Xerox toners thru CDW. The service is great and the product is the best on the market - genuine Xerox toner.
Date published: 2017-05-31T00:00:00-04:00
Rated

5

out of

5
by
elaura
from
Nice product and packaging
Nice product and packaging and free delivery was a big factor
Date published: 2017-08-02T00:00:00-04:00