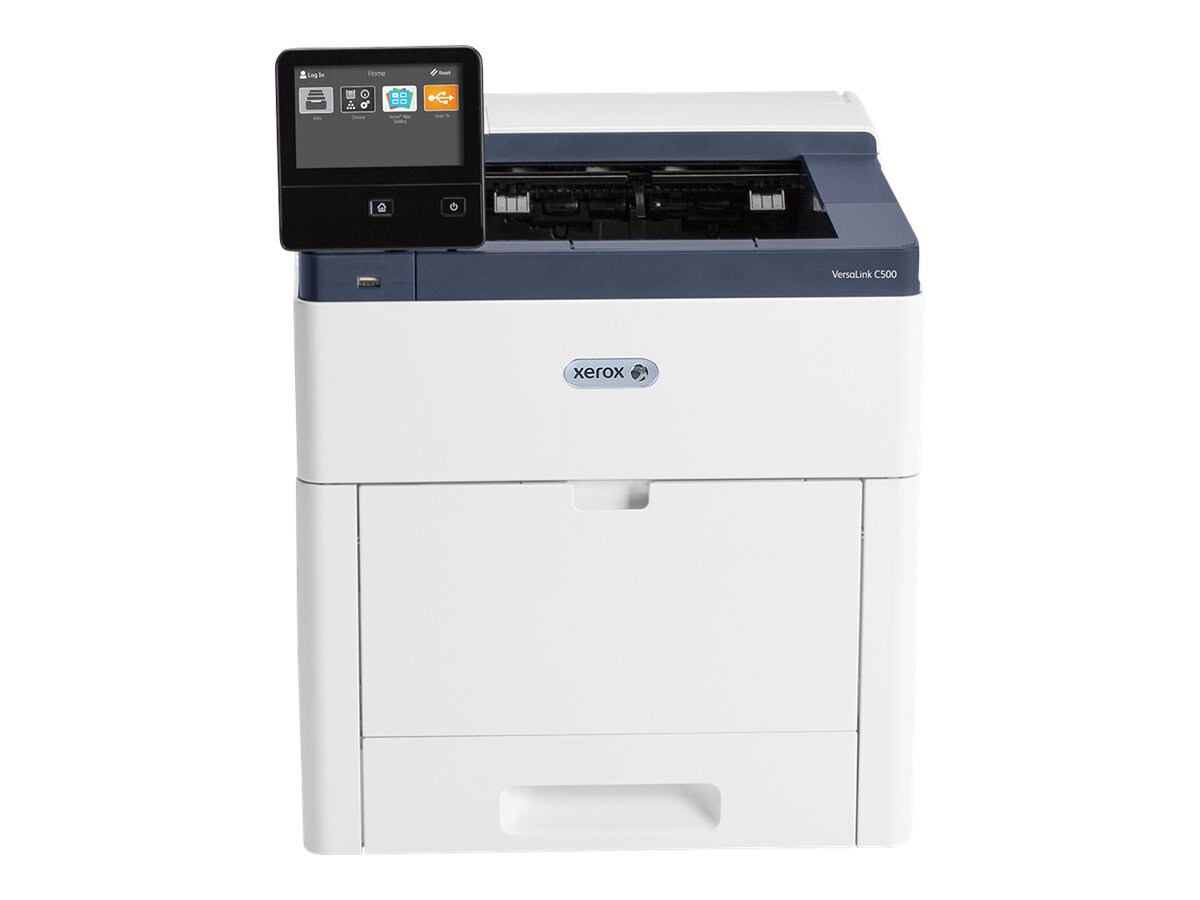 Quick tech specs
Printer
Duplex
A4/Legal
up to 45 ppm (mono) / up to 45 ppm (color)
color
LED
1200 x 2400 dpi
View All
Know your gear
Achieve exceptional office productivity, amazing print quality, and unbeatable reliability with the Xerox VersaLink C500. It is cloud connected, mobile ready, app-enabled, and easy to customize.
Xerox VersaLink C500/DN - printer - color - LED
is rated
3.96
out of
5
by
26
.
Rated

5

out of

5
by
GEORGE R.
from
OUTSTANDING
Outstanding Features High Recommended Printer. Easy to use. Excellent Quality. Prints from my phone. Wirelessly works perfectly. Good size and form factor . Silent.
Date published: 2020-04-22T16:32:24-04:00
Rated

5

out of

5
by
bctadmin
from
Needed service after only 2 weeks
The printer would not turn on within 2 weeks of purchase. We had to have a technician come out to fix it. We are very concerned about the quality and durability of this Xerox printer.
Date published: 2019-06-14T00:00:00-04:00
Rated

5

out of

5
by
Andre
from
Fast & Efficient
I bought this product to replace an old color laser printer (10 years old). Set-up was fast and easy. Printing through our family network is fast. Overall, cost-befit ratio is quite impressive.
Date published: 2018-12-03T00:00:00-05:00
Rated

5

out of

5
by
Cheri
from
Not impressed
You told us that it prints #6 envelopes; it does not. It is very confusing when you switch paper sizes.
Date published: 2019-04-29T00:00:00-04:00
Rated

5

out of

5
by
Kathy
from
I would not recommend this printer to anyone
This printer has been nothing but confusion and frustration since the day we got it. IF you can figure out HOW it works, it prints very well, but it is NOT user friendly at all. THEN on top of that, we were practically guaranteed that it would print No 6 envelopes and it will NOT print that size envelopes and that that is the main reason we even considered it. If we could return it, we probably would. It is NOTHING like the Color Cubes that we used to have. No, I would not recommend this printer to anyone.
Date published: 2019-04-30T00:00:00-04:00
Rated

5

out of

5
by
Jeff
from
Xerox destroys their entire printer line
Why on earth xerox got rid of their solid ink printers for another line of expensive to use laser printers is beyond me. If you can find a Colorqube used, would take in a heart beat over this junk
Date published: 2017-10-17T00:00:00-04:00
Rated

5

out of

5
by
CCVH
from
just installed
So far so good. It will take some time to see how it holds up but we're happy!
Date published: 2018-11-26T00:00:00-05:00
Rated

5

out of

5
by
Jen2017
from
Color is awesome and prints quickly.
We previously had a Xerox 8570 that we loved. We replaced it with the Xerox C500. The print quality of Xerox is wonderful and we've had great luck with the printers.
Date published: 2019-05-21T00:00:00-04:00
Rated

5

out of

5
by
MichelleMcL
from
Great Price for an Office Computer
Print quality is very good. It is extremely easy to change the toner. Literally pull out and then reinsert the new cartridge. We have the extra tray, and I highly recommend it. I might even venture to get two. The bypass tray is often used at our office, and it does slow things down quite a bit as we need to be in front of the printer and push the button to make our items print. This can be very trying to One's patience when you have printed 20 documents that this needs to be done for.
Date published: 2019-02-04T00:00:00-05:00
Rated

5

out of

5
by
JD2716
from
Ease and Consistency of Operation
Over the last 6 months our family foundation has purchased two Xerox c500 Versalink printers. I purchased the first one in June. While I have been a Xerox Customer for over 14 years with various printers that just plain work, my Xerox print I purchased in 2012 needed a new laser and I couldn't wait to repair it so I purchased my first c500. It was such an easy set up out of the box and I was up and operating in 15 minutes. So I used it for two months before going to our office up north. That Xerox printer purchased in 2004 which was working fine, but I could sense it was coming to the end of its life; so I purchased another c500 for that office. The results were the same. Easy setup out of the box and consistent easy rapid printingI'm impressed both by the speed and two sided printing which I do a lot of.I highly recommend this printer with out any reservations
Date published: 2018-11-21T00:00:00-05:00
Rated

5

out of

5
by
AME
from
This printer is AMAZING
Easy setup , fast and great print quality !
Date published: 2018-11-29T00:00:00-05:00
Rated

5

out of

5
by
BKS4B
from
Fast printer, easy setup with a few caveats
Fast printer. Was easy to set up, but discovered it would need a separate adapter ($50) to make it wireless (thus 4 stars- seems like it would come with this in this day and age of wireless everything!) Wireless connection simple after install of adapter, but still could not get the printer to update firmware. After an internet search, I was able to update firmware manually (the second reason for 4 stars) Now that I'm up and running, overall this is a good, if not great printer for my home office. Color quality is very good, and printing is FAST!
Date published: 2019-05-29T00:00:00-04:00
Rated

5

out of

5
by
Rose
from
Fast and Great Quality
I needed to replace an older Zerox Color Cube which was our office favorite but no longer available. Loved this one so much that I ended up buying 3 of them! Of course it's not commercial printing quality, but it is great for general office color printing. I recommend it.
Date published: 2019-02-27T00:00:00-05:00
Rated

5

out of

5
by
WWalsh
from
Product is very reliable and great quality
Vivid colour - excellent and consistent output. Intuitive Many options for various projects. Very happy with the reliability as I run a small business and I don't have the immediate resources or support for help if were required.
Date published: 2019-03-07T00:00:00-05:00
Rated

5

out of

5
by
Kat
from
Ok, product
The product runs fine, however, there are too many vague directions. If you want to change print from portrait to landscape you have to go in and type way too many directions for it to change. We are a portrait studio and frame shop and constantly use our printer to print forms and order forms . Too much involved to change direction of printing. Our phaser 6560 was much easier to use. The toner costs for this machine are at a ridiculously high price. Make the toners more affordable for each machine. We joined the toner club but have yet to use as costs are just too high. Parts for replacement cost as much as a new machine. Make parts more affordable.
Date published: 2019-06-06T00:00:00-04:00
Rated

5

out of

5
by
Dave
from
Good Quality
The VersaLink C500 is my second personal Xerox printer. I recently upgraded from a Xerox Phaser 6280 which worked without a hitch for 8 years. In fact it still works, but I wanted the ability to print directly from my iPhone or iPad, which the VersaLink C500 does. I'm passing my old Phaser on to my sister. Before I got the Phaser, I used to have inkjet printers and was frustrated by how many times I had to replace the ink cartridges or clean the jets. Not only was it the expense that bothered me, but also the inconvenience of performing constant maintenance to keep the printers running properly. With the Xerox, I never had to do any maintenance at all except replace a toner cartridge now and then. I also worked with Xerox printers as a graphic design instructor at a technical college. We had Xerox Phasers in our classrooms for the students, and we had a Xerox digital press for our student handouts and other college print material. I found the Xerox models to be more reliable and faster than some other brands we had at the school. That's what convinced me to buy a Xerox printer for my own personal use.
Date published: 2019-04-28T00:00:00-04:00
Rated

5

out of

5
by
JohnCB
from
This printer is in near constant need of service.
I have been with a company using this printer for the past 8 weeks. In that time, it has been down more than working. From speaking with others, this is a common occurence. When it works, it works well, but the constant down time makes it a poor choice.
Date published: 2019-05-24T00:00:00-04:00
Rated

5

out of

5
by
ACLDNetwork
from
Beautiful print quality
Set up for alternative stock through the bypass tray is complicated--once I master that step, this will be the perfect printer. I don't need the speed in this office, but I put a C600 in an employees office and she loves it.
Date published: 2019-03-25T00:00:00-04:00
Rated

5

out of

5
by
Larry
from
Overall, a great product
Of course, the printer worked great right out of the box. I might add that although the Xerox representative promised three day shipping, the printer actually arrived the next day. Setup was a breeze. And the Windows and Mac computers all recognized the printer without issues.The single problem I have is that the Windows 10 desktop computers tend to forget the C500 at the most inconvenient times. Usually, I can move the work from one Windows 10 desktop machine to another where the printer is recognized and the job is printed. This minor issue is never seen using the laptop (also running Windows 10) or the Mac.My wife, who is a university professor and requires highest quality and reliability, regards the C500 as an essential tool of her teaching and research profession.This is our second Xerox color laser printer - it won't be our last!
Date published: 2018-11-04T00:00:00-04:00
Rated

5

out of

5
by
Marc
from
Excellent Office Duty Color Printer
We had been using Epson inkjet all-in-one printers throughout the office but found their reliability and support to be sorely lacking. After doing some research, it was decided to go with a Xerox color laser because of their service duty and lower cost per sheet.Color, speed and reproduction are first rate. Paper refill is reduced thanks to the large capacity feeder tray and the duplex printing saves paper. Operation is simple.I would only caution buyers that wireless set-up is a bit more involved as we had to assign a static IP address on the network in order to print. We also had to add a dedicated 20-amp electrical line as laser printers draw a substantial load. Our overhead lights flickered regularly throughout the day until adding the circuit. There's still a light flicker on some overhead lights during the course of a print job.Overall, it's still a far better option than inkjet for an office producing hundreds of prints every week. And you can't go wrong with Xerox, the first name in copying.
Date published: 2018-02-26T00:00:00-05:00
Rated

5

out of

5
by
Lab Rat
from
high throughput work horse
I share this printer with a few other lab groups on my floor. We go through 100+ pages per day and typically have no issues - jams, bad print jobs, etc. I also print on 3X5 index cards, and this printer handles these well. On occasion the printer will accidentally grab two at a time and get jammed, but this seems to happen with every printer I've ever used for printing on index cards. Fast warm up, fast printing, good quality. This printer rocks!
Date published: 2018-12-18T00:00:00-05:00
Rated

5

out of

5
by
Jane
from
Not completely satisfied
I had a Xerox rep come out to my office and he recommended this machine to replace our Phaser. This new machine is pretty loud and cannot print on card stock, which is contradictory to the information the sales rep told us. The quality of printing is nice and machine was easy to set up.
Date published: 2017-11-24T00:00:00-05:00
Rated

5

out of

5
by
Winemaker
from
Copy that
This Versalink C500 replaces a Xerox 6180 that performed well for many years. So far the C500 is performing well and the print quality (LED) is spectacular.
Date published: 2019-03-27T00:00:00-04:00
Rated

5

out of

5
by
RobF
from
This producct works great
Eassy to setup and use, great print quality
Date published: 2019-02-15T00:00:00-05:00
Rated

5

out of

5
by
Sasha
from
Great Printer!
This printer works great! It has a high printing quality and it prints at high speeds. It has touch screen controls so it is like using your smart phone. It gives you stats on demand on printing usage and supplies. It gives alerts on when to order supplies. You can view the pages remaining to print on each toner color cartridge. The toner is available in standard capacity, high capacity and extra high capacity, so I recommend figuring out your total prints per month so that you order the right capacity and not have to re order too many times in one month.
Date published: 2018-12-02T00:00:00-05:00
Rated

5

out of

5
by
Joe
from
Great Quality and Speed
This printer offers exceptional quality and speed at an affordable cost. The App Gallery offers many features that you don't see with other laser printers on the market.
Date published: 2017-11-06T00:00:00-05:00