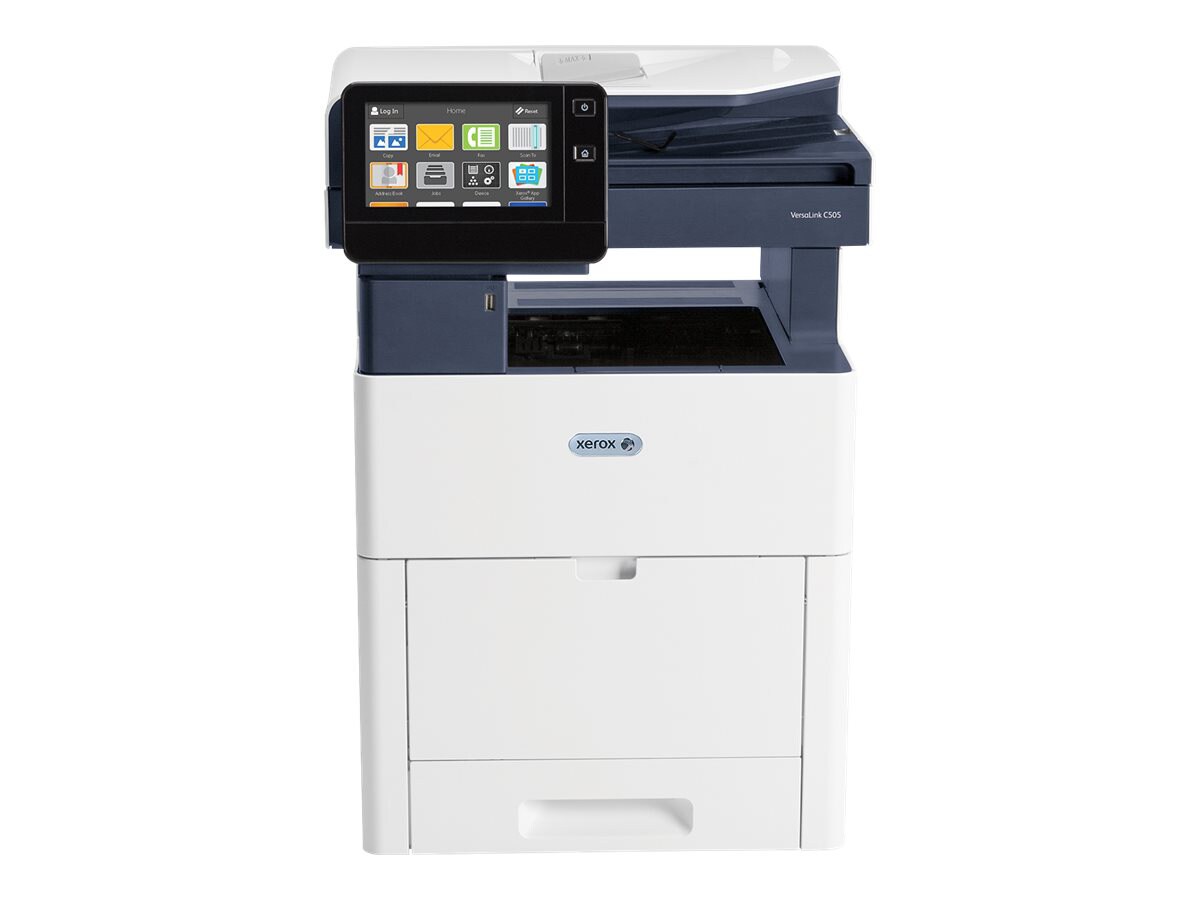 Quick tech specs
Multifunction printer
LED
A4/Legal (media)
up to 45 ppm (printing)
Gigabit LAN
NFC
color
216 x 356 mm (original)
up to 45 ppm (copying)
700 sheets
USB host
USB 3.0
View All
Know your gear
The Xerox VersaLink C505 provides high-performance productivity, superior print quality, and exceptional reliability. It is cloud connected, mobile ready, app-enabled, and easy to customize.
Xerox VersaLink C505/S - multifunction printer - color
is rated
4.30
out of
5
by
20
.
Rated

5

out of

5
by
michelleg
from
EXCELLENT ALL IN ONE
Printer works perfectly for the workload we have. Can print large amounts in the matter of seconds. Able to email directly from printer from our personal email accounts. Color is not washed out like some of the previous printers we have had. Very vibrant coloring. Just a really great printer with various features.
Date published: 2019-04-24T00:00:00-04:00
Rated

5

out of

5
by
Shawn
from
Replaced my old Colorqube, pleasantly surprised
My old 8700 finally bit the dust so it was time to upgrade. Pros: prints faster than expected Really crisp print quality Easy to use from my phone Toner isn't as pricey as it was for the solid ink printers Setup was fairly straightforward (if you've ever set up a printer before you won't be surprised by this one) Cons: it was expensive Super heavy, it was a pain to get upstairs
Date published: 2018-01-26T00:00:00-05:00
Rated

5

out of

5
by
NPSJr
from
Great for a home office
We'd become used to an older high-end HP Color Laser. The C505 came highly recommended, and we took the chance. For our b&w and color needs, and for speed, we've been very pleased. We still have to train ourselves on available options, ... and there are many!
Date published: 2018-12-19T00:00:00-05:00
Rated

5

out of

5
by
pj
from
This is just an average machine
The color quality is not the best, certain colors will copy but not print, and it is very quirky printing some PDF documents. The bypass also can be difficult. I expected more from a Xerox product, I don't think I would buy another one of this model.
Date published: 2018-11-08T00:00:00-05:00
Rated

5

out of

5
by
JBPAV4410
from
Great 4-in-1 Printer
Printer is great for the office. Covers all the necessary tasks we do on a daily basis such as printing documents, copying, scanning, faxing, and emailing. Print quality is really high standard. Overall love the printer and it satisfies all our printing needs.
Date published: 2019-05-24T00:00:00-04:00
Rated

5

out of

5
by
Yvonna912
from
Challenging Printer
We have had this new printer since January 12th, 2018 and it is very different from our Xerox Colorcube 8700 and challenging. I have been searching for a video with step by step instructions and of course I don't see it. So I'm reading the instructions and playing with it so I can teach my co-workers how to use it. I will not stop trying until I understand almost everything about this multi functional printer.
Date published: 2018-02-01T00:00:00-05:00
Rated

5

out of

5
by
M57
from
Quality Equipment
We are very pleased with this printer so far. It appears to be very well built and the print speed is excellent. We like the scan to email feature. We also have had great customer service when calling in with questions about setup. They took the time necessary to help with installation process.
Date published: 2019-04-19T00:00:00-04:00
Rated

5

out of

5
by
Asavytraveler
from
505
Hi. This multi-function printer is working perfectly as described. I have sent many copies to the printer from my computer and it works great. I spent about 2 hours with three Xerox people to get the equipment working, but it was worth the time. The copies are fresh and clear, the scanner is absolutely fantastic. I am very happy with this machine. You should get one! Thanks
Date published: 2018-01-29T00:00:00-05:00
Rated

5

out of

5
by
KDagnan
from
Do not buy this printer (unless you like tearing your hair out)
Purchased on 12/5/18. A Xerox representative is coming over 1/30/19 because we received an error message. Seems we may need to, after 1 month, get a replacement part?? This machine is difficult and sometimes IMPOSSIBLE TO USE. I've been using printer/fax/scanning machines for the last 20 years and this one - is by far - the most engineered and utterly impossible to use. Why should I have to walk over to the machine and press "Done" when I'm done printing? Why does it sense a change in paper thickness and refuse to work? Why can't I simply place an envelope into the feeder and have it print an envelope? I have to "tell" the printer to print a Monarch #10 envelope then "tell" the printer that I am "done"?? We get error messages for the simplest things. Simply and utterly frustrating. I probably will be sending it back and getting a much less complicated machine. You know, something that simply scans to e-mail, makes copies on various colors and thickness, prints envelopes and faxes! What a great concept!! Whoever invented all the crap and made it overly complicated and impossible to use is a complete idiot. Clean prints however.
Date published: 2019-01-29T00:00:00-05:00
Rated

5

out of

5
by
AngelTX
from
Waste of $$$
Bought this for our small business, at first, print testing was great. When we needed to print envelopes, labels, brochures, etc., the problem began. Printing from the bypass tray does NOT work, we were able to get it to print once and that was it! We resetted the system dozens of times. It was just a waste of time we had spent on trying to resolves the issues. We went online looking for answers and it was hopeless. We used another inexpensive printer that did the job and ended up using the Xerox printer for regular letter size printing.
Date published: 2019-05-21T00:00:00-04:00
Rated

5

out of

5
by
Lindy17
from
Versalink C505 is just what we needed.
The user interface on this printer is pretty intuitive. It is easy to track supplies usage via the web and can be set up to send error reports to the IT person. We love the scan to network folder and to email feature. For our small busy office this printer gives us everything we need.
Date published: 2019-05-09T00:00:00-04:00
Rated

5

out of

5
by
Beantownac
from
Great business all-in-one machine
Having used several lower grade systems and always being frustrated with slow print speeds, slow warm-up, poor print quality, and numerous toner issues, I decided to invest in a higher quality multi-function system. The C505 was relatively easy to set up and integrate into the network (I would have loved built-in wireless but running a wire wasn't too hard). It took me about 4 hours to set up all of the features that I planned on using and connect my office computers to it. Once set up, the system has proven to be better than I expected. It warms up very quickly, prints at lightning speed (even dual-sided prints), and is very reliable. Scanning is quick and easy as is scan-to-email which we use significantly. It's been running for about 2 months now and I am extremely pleased with it. Well worth the investment!
Date published: 2018-12-18T00:00:00-05:00
Rated

5

out of

5
by
Robert39
from
This product does everything I would need at my insurance agency.
Print quality is exceptional. Ease and cleanliness changing toner cartridges is superb.
Date published: 2019-01-08T00:00:00-05:00
Rated

5

out of

5
by
psc
from
Great Printer
This print quality on this model is great and the print speed is too, but the scan feature is difficult to set up and if you run out of ink in just one color cartridge, you are completely shut down from printing....you cannot even print in black and white. Otherwise, it is a great printer and our office loves it!
Date published: 2019-01-02T00:00:00-05:00
Rated

5

out of

5
by
Kelly
from
THIS IS ONE AWESOME PRINTER!!!!!
Awesome resolution easy to use.
Date published: 2018-12-18T00:00:00-05:00
Rated

5

out of

5
by
CPAMarko
from
No Question this VersaLink C505/X is a Decent MFC
I purchased this newly introduced C505/X mainly for its scanning capabilities, it's scanning functionality has met and exceeded my expectations. Its printing functionality and print quality from a computer file is above average in both terms of speed and in expected print quality. Overall print quality is above average and its print graphic user interface (GUI) is relatively easy to use for first time users who are not accustom to working with a high end MFC machine. The VersaLink C505/X copying function is a different matter. First for the good news, for any corporate enterprise or professional services office whose work product consists of legal size paper or copying onto legal size paper, that is 8 1/2" x 14 sized paper, you must opt for the more expensive VersaLink C505 or the C605 models, Do Not consider the less expensive but more popular C405 model. The C405 model has only the 8 1/2" x 12" letter sized glass plate for coping and scanning. Yes the C405 has a copying and scan paper feeder, but for paper bound filed documents, having a full legal sized glass plate is the only way to go. The copying function is relatively easy to use, but there is no contrast adjustment on the main user function screen which is terribly annoying. Obviously there is a "darkening and a lightening" adjustment but there is no document contrast adjustment. Xerox must correct this oversight in its future production machines. The enlargement or reduction size selection function works as well as any full sized office copier. Now for the bad news, the copying print quality leaves a lot to be desired in my opinion. For some unknown reason the copying function output print quality is substantially different from that of the print quality from that of a printed computer file. To this user, this material difference in print quality from the two different document source functions is terribly incongruent, and doesn't make a lot sense in my opinion, I will forward and submit Case File Complaint to Xerox to request their support and intervention. Hopefully this print quality disparity issue can be addressed and resolved with some kind of upgraded software update. The scanning in and the production of PDF files functionality is exceptional, no problems no issues. The user programing needed to setup and send the newly created PDF files to their desired locations (i.e. to specific email locations with different email addresses) is difficult but not overwhelming. It appears the Xerox design and programming engineers did their home work and listened to previous Xerox customers in designing the scanning in process, making it as easy and efficient as they could without the need for the user to invoke Adobe's Acrobat DC program afterwards. This user was afraid that he was going to have to purchase the Adobe's Acrobat full DC version program to make simple changes to the created PDF files. However, the C505's built in software automatically recognizes different sized individual pages (i.e. scanning in a legal sized page in the landscape position among other letter sized pages all within the same created PDF file) and if necessary it rotates the odd sized page to the correct portrait visual position without any intervention by the user. Hats off to the Xerox design engineers. Now for the bad news, similar to the faxing function as stated below, the dpi setting for the scanning in function is NOT on the main user function screen, this user changes dpi settings for every single created PDF file. Xerox must put the dpi setting selection on its main user function screen. However, within the initial set up menu which is different than the user interface function screen, the standard 200, 400, and 600 dpi selection settings are available. The choice of full color or black and white and text verses photo selection settings are all on the main user function screen as they should. The "X" version of the C505 has the fax function capability. Again the output print quality is above average for this antiquated technology, my only complaint is that fax sending dpi selection is NOT on the main user screen for some unknown reason. The fax sending dpi setting is in an esoteric initial setup screen which you have to invoke MS Windows 10 to get to. It is a real pain to make any dpi adjustments, but the overall dpi print quality is exceptional and it has the upper limit of 600 dpi for sending high end print quality report faxes to the latest and greatest of all fax machines. Given Xerox's current price discount promotion program from Xerox Direct, the VersaLink C-505/X represents an exceptional value for this upgraded MFC machine. I highly recommend the C-505/X for a small office environment up to 10 users. Additionally, if any production of documents which requires or entails the consistent use of legal sized paper, only purchase the C505/X with the additional 550 page paper feeder. The bypass tray is only good for # 10 sized business envelopes and not adequate for the consistent use of legal sized paper.
Date published: 2018-12-06T00:00:00-05:00
Rated

5

out of

5
by
Rachel70
from
Affordable all in one for small business
Setting up the scan to email feature was tricky, but otherwise we were able to get this printer set up without the help of an IT professional. Great printer/scanner/copier ( we do not use the fax feature so cannot comment on it) to get the job done at an affordable price.
Date published: 2018-10-29T00:00:00-04:00
Rated

5

out of

5
by
Charlie
from
LOVE IT
The best home office printer I've ever owned
Date published: 2019-02-01T00:00:00-05:00
Rated

5

out of

5
by
NR
from
Great Product
This is a great product, it is easy to use and quick. I am able to get my work done faster to move onto other projects because of this printer. It takes me less time to complete tasks and I love it.
Date published: 2018-11-27T00:00:00-05:00
Rated

5

out of

5
by
viamsio
from
Best printer for small business
We've been using printers from several brands over the years. Never really happy with them. Xerox model C505 is finally a perfect fit!
Date published: 2018-11-06T00:00:00-05:00