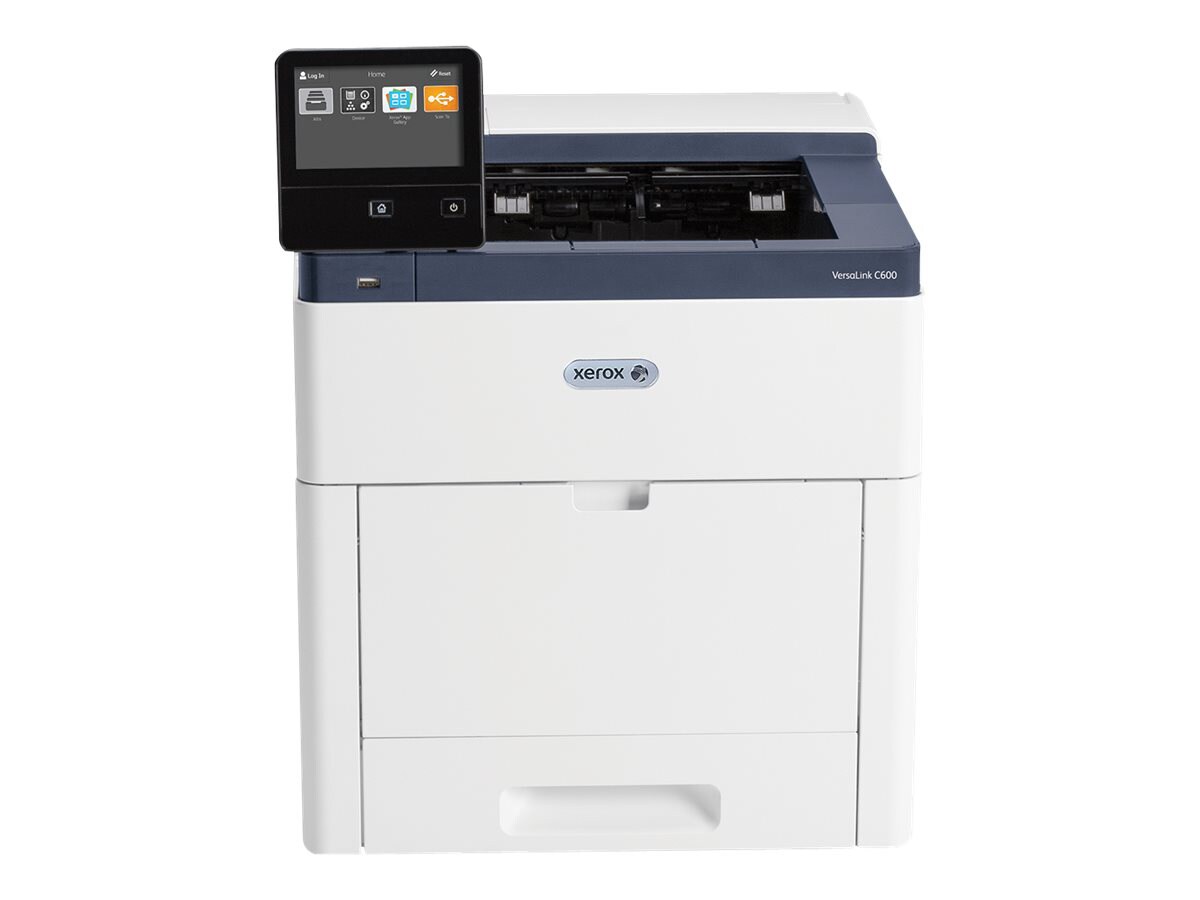 Quick tech specs
Printer
Duplex
A4/Legal
up to 55 ppm (mono) / up to 55 ppm (color)
Gigabit LAN
NFC
color
LED
1200 x 2400 dpi
capacity: 700 sheets
USB host
USB 3.0
View All
Know your gear
The VersaLink C600 is the new definition of exceptional performance, unbeatable reliability and impressive print quality. It is cloud connected, mobile ready, app-enabled, and easy to customize.
Xerox VersaLink C600/DN - printer - color - LED
is rated
3.10
out of
5
by
36
.
Rated

5

out of

5
by
Wendy
from
Didn't last a year without problems
Received printer in Aug 2018. Already having issues as of April 2019 that will cost about $250 for the first 30 minutes for a repair person. This machine was a replacement for a defective Phaser 6700. The problem is as simple as the machine will not use the new yellow toner cartridge. All greens are blue, etc. It recognizes the cartridge and spills toner all over, but apparently it will not go where it is supposed to. I guess I could have spent over $300 for a yearly maintenance agreement, however, who would have thought we would need major repair in the first year. Just spent $600 on 2 toners that will be useless since I am done with Xerox product. I also have several replacement drums that will be useless. Doing the math: Approximate cost - printer: $1,000. By the end of the first year or before you will need disposables: toners (4) $1,100, drums (4) $280. Add the annual service agreement to be safe: $330 = $2,710.00. Could buy lesser printer every year for 5 years for that cost. Too costly to run
Date published: 2019-04-11T00:00:01-04:00
Rated

5

out of

5
by
joel
from
prints are very fine quality
wish there more info were better instructions and on maintainance
Date published: 2019-03-29T00:00:00-04:00
Rated

5

out of

5
by
Britt1922
from
Great Print Quality
Once you have connected the printer to your computer and have setup properly the printer works great. It can be a little slow at waking up when needing to print; but the print jobs are always completed with great quality.
Date published: 2019-05-20T00:00:00-04:00
Rated

5

out of

5
by
andygirl98
from
Prints very nicely if you can get it to print.
This printer has been a constant frustration since we received it a month or two ago. It does not feed labels, envelopes, letterhead or anything using the by-pass tray well. Your job will just sit in the queue and not print even from the regular paper tray. If the printer is not right at your desk, you have to get up and confirm the paper on the screen of the printer, and sometimes it still never prints. It is the most frustrating printer I've ever had and I hate it.
Date published: 2019-04-15T00:00:00-04:00
Rated

5

out of

5
by
Cowboy22
from
Quality, Speed & Supply Cost Savings
The very best Xerox printer yet. Quality is superb and fast. Cost savings on ink vs other printers will make a large difference. Quiet running.
Date published: 2018-01-29T00:00:00-05:00
Rated

5

out of

5
by
Don94549
from
Excellent print quality and speed at an affordable price
We chose the C600 as a replacement for a Konica-Minolta color laserjet that served us well for 15 years. The Xerox C600 has a much smaller footprint and provides superior performance with high-speed duplexing, crisp graphics and wireless capability. The printer is efficient while printing and then puts itself to sleep for energy savings. The setup was straight-forward and has not required any maintenance. There are extensive security features for public/corporate settings on a shared network that we have not needed at home, yet my sense is that these features are important to those who need them (such as password protected print jobs). Since these features are built-in and available on demand, business should strongly consider this printer for their networks. My final comment is buy with confidence because this printer is an exceptional value.
Date published: 2018-12-15T00:00:00-05:00
Rated

5

out of

5
by
mac27
from
requires full time tech dept on site
We got the versalink c600dn because we wanted a fast printer. But we have spent approx 14 hours just setting the machine up and it still jams every time we try to print an envelope. If you have an unlimited budget and have a technical person onsite 24/7 it may be a great machine. For a small office, much to complex. It's fast and the print quality is excellent but the setup for each print job is not worth it.
Date published: 2018-01-29T00:00:00-05:00
Rated

5

out of

5
by
PRINTER-USER
from
Finally some FASTER printers that do not weigh a TON-seems like xerox is attempting to bring out some faster printer for once, instead of slow pokes!
I will start off by saying this is a slow improvement on there new line of printers, not sure why there latest printers are still slow at printing.. 55ppm isn't slow, but I know xerox can make faster printers, we need 65ppm and faster! , But I am somewhat impressed that the weight of these new printers are heading into the right direction, its hard to find a fast printing printer under 100lbs. The C600 weighs in at 64.8lbs!. I was disappointed in the print quality, most of or all of the xerox printers always had a nice shine or gloss to the printed output, but the C600 produces a DULL look to it,, I returned it for this reason. paper handling seems ok, I did not test envelopes. The web interface is annoying, looks like some TODDLER designed it, every time you update or refresh the web page it turns BLACK with this silly spinning circle that makes you DIZZY! its really annoying! I hope future printers get rid of that BLACK background and spinning nightmare of a circle in the middle of the webpage, what were you thinking XEROX!! ONE last thing and for GOD sake xerox, get RID of those stupid silly plastic clips that you use to seal the boxes with, either one or a few of them end up missing when the box arrives, that is NOT a good seal, anyone can tamper with the product while in transit, someone can remove the plastic clips, there are usually 1 on each side of the box, and tamper with the product, remove toner, etc, and close the box and put those plastic clips back on and one would never know that anything was tampered with!!
Date published: 2017-11-16T00:00:00-05:00
Rated

5

out of

5
by
sallycho9090
from
fantastic
totally fantastic. I cannot find any paper jams or ink troubles. the speed is unbelievable. my boss loves it. connectkey lets me connect to my phone faster and safer.
Date published: 2019-05-29T00:00:00-04:00
Rated

5

out of

5
by
Jeff
from
Terrible printer
We ordered this printer and after 2 months, nothing but problems. Xerox replaced the machine and within 6 weeks the same problems occurred. WE have been waiting for 3 weeks to get some resolution. I needed to buy more printers and had hoped to buy Xerox but bought HP as they seem to be much more reliable.
Date published: 2018-11-01T00:00:00-04:00
Rated

5

out of

5
by
Bandwatcher
from
Great for looking at products in color
We use this to see a rendering of an artists idea of what a uniform in all of it's color will be. Allows us to work with customers with the same colors as provided.
Date published: 2018-11-01T00:00:00-04:00
Rated

5

out of

5
by
kNAPPER
from
Fast and easy to use
We bought this machine to print large Specification books for Architectural projects.. It has been a huge upgrade to our other office printers.
Date published: 2018-10-22T00:00:00-04:00
Rated

5

out of

5
by
AZSchoolDistrict
from
Stay away from this printer
When it prints, it's great. We have had a lot of issues with the drum cartridges. Will be replacing the printer as soon as we can. It's too high maintenance and costly.
Date published: 2022-09-19T00:00:00-04:00
Rated

5

out of

5
by
Manuel
from
Great Office Printer
Print quality is excellent. The printer is very efficient and replacement cartridges are easy to load, Packed with features and is modular. The touch screen is very responsive. We added a finisher to it to staple paperwork which works great as well (097S04952). Overall we are very happy with this printer.
Date published: 2019-11-07T00:00:00-05:00
Rated

5

out of

5
by
andygirl98
from
Prints beautifully if you can get it to print
This printer is so finicky. The paper guides must be exactly right or it will not print. The screen is not completely intuitive and you have to lie to it half the time to get it to print a simple document. It is really frustrating. Everyone in the office fights and yells at it on a regular basis.
Date published: 2020-10-02T00:00:00-04:00
Rated

5

out of

5
by
splashfx
from
Dead after 1 year and 1 month of service.
We loved the solid ink printers (8570, 8870) but they stopped making those, so we decided to stick with Xerox and we were very disappointed with the C600. We were happy with the printer itself, but it just didn't last.
Date published: 2020-09-21T00:00:00-04:00
Rated

5

out of

5
by
dfc
from
Nice printer but ...
Approximately 3 reams printed without issue. Thereafter, duplexer constantly jams. All recommended remedies not successful.
Date published: 2021-04-05T00:00:00-04:00
Rated

5

out of

5
by
jrw3rd
from
Great Product & Quality
This printer is easy to set up and has great print quality!
Date published: 2020-02-24T00:00:00-05:00
Rated

5

out of

5
by
Reviewer
from
Great laser printer for the price
Great color laser printer for the price. Manual operation can be a bit cumbersome, and does not immediately play well with application interfaces, but the quality of printer outweighs these drawbacks.
Date published: 2019-11-27T00:00:00-05:00
Rated

5

out of

5
by
Bluewanderer
from
Almost a GREAT printer
When I first installed this printer I thought it could be the best printer I have ever used, especially at the price. Unfortunately, if we print more than 400 or 500 sheets at a time the printer gets hot and we start getting lose toner, streaks, and light spots on the page. Support was great, but never figured out the problem, though they replaced about $500 worth of parts for free. In the end I decided to keep the printer, but in a lower volume location, and went with a slightly more expensive competitor for the high volume location. Also, part numbers for the drum units are listed incorrectly on the Supplies Usage page. I almost bought the wrong drum!
Date published: 2019-08-13T00:00:00-04:00
Rated

5

out of

5
by
Mugsie
from
Ridiculous amount of effort to switch print settings.
We chose this printer for my office because we have always liked the print quality of Xerox. However, this one is so cumbersome to switch paper types that it is absolutely not worth the trouble. With every other printer I have ever used, it was sufficient to change the settings in the printer properties on the computer; this printer requires that I confirm any changes on printer itself. It also does not go back to defaults - even when I select the default. It will only go back to the default settings for one print job and then wants to return to whatever arcane settings I used for some one off job. Currently, it thinks everything needs to be printed on blue paper, or that it is loaded with blue paper. I have the most current drivers, so it's just possible that my specific machine is crap. But it really is a pain.
Date published: 2020-01-21T00:00:00-05:00
Rated

5

out of

5
by
DiomedesIV
from
Outstanding Printer
Our C600DN replaced our ColorQube 8580DT; this was a great decision. The C600DN is fast from wakeup to first page out, and does not un-necessarily waste consumables. The printer is reliable; is just works, whether we air-print from our iPhone, or direct print from our workstations the printer never misses a beat or has a printing error. Would have rated 5 star for ease of use if it was not for the manual bypass tray. Our ColorQube automatically sensed the 8.5 x 11 or #10 envelopes; while the C600DN does not. It took a technical support call to figure out you have to manually set the bypass tray paper size/type. All in all, we are most happy with our Versalink C600DN and absolutely recommend the printer.
Date published: 2020-04-29T00:00:00-04:00
Rated

5

out of

5
by
Susie
from
Versalink C600 - great color and speed
We love the printer. it works great for our architectural renderings. But wish the toner was not so expensive and was easier to get. Only a few office supply stores carry specific to this model.
Date published: 2019-09-23T00:00:00-04:00
Rated

5

out of

5
by
Unsatisfied customer
from
WORST MACHINE I EVER PURCHASED!
This experience has been nothing less than a nightmare. I have had nothing but bad luck with both of the VERSALINK C600 machines I have had. They replaced the first one because they couldn't figure out what was wrong with it. Now the second machine is acting up constantly. I run a printing business and cannot wait around for repairmen to keep coming out. I will switch to a another provider!
Date published: 2020-06-06T00:00:00-04:00
Rated

5

out of

5
by
Stan
from
Great features but difficult to manage for no-network
We usually use print and scan with fax on occasion printer does not take command from tax preparation software.
Date published: 2020-08-27T00:00:00-04:00
Rated

5

out of

5
by
Manny
from
Reliable Printer, Quality Product
We have been using this printer with the add-on stapling unit for about 1 year now. We put 15-20 reams of paper through it a week. It rarely ever jams and has been a great asset to our business.
Date published: 2020-08-04T00:00:00-04:00
Rated

5

out of

5
by
Printerfan
from
Fast, but colour consistency in nightmare
Usually don't review items much, but though I'll spent some time in case it will be helpful for someone. It's really really fast printer and I bet for most people will do the job beyond expectation. Quite pricy to buy, but compared how much toner you get in comparison to other brands, you basically paying for toner and printer is for free. From what I looked (comparisons to others), it's one of the most economical printer. Takes time to set up, as has a lot of options, but eventually gets job done. Many many features and security options so can really be adjusted to your need of printing. Now to the quality. I needed to cover page in single colour and it does the job. I was warned, that I should not use laser printer for that as inconsistency might be in cover, but I found nothing like this happening, single nice colour across the page. But my quality review says 2 stars only and here is where is problem - Colour consistency is just nightmare. I talked to support, they assured me Colour registration maintenance option will sort my issue, but it didn't. Using printer more then a month and I'm getting constantly 3 level or colour. I adjusted all my prints to one of colours, but from no reason printer sometimes does either less or more intense colour. I'm running cleaning, colour registration and colour calibration procedures constantly just to try to get to my needed colour standard and it's luck of a draw. Sometimes it changes it's colour intensity in mid print on other page. Some days it gives one colour some days other ones. Could be consistent for a week and next week good luck to find procedures order to get your colour back, because after each procedure mentioned before results might vary. Considering that printer has calibration and other maintenance locked for admin only (can be unlocked) and lock is used in office and suddenly your colour changes, will be nightmare for support person. If you need just fast printer and you dont might slight chance in colour, I think it's good option, but if you want consistency, would suggest look somewhere else for it. I spent so much time finding colour and then you feel you did it, they changes again. Not worth the trouble for the price you pay.
Date published: 2021-04-28T00:00:00-04:00
Rated

5

out of

5
by
Data-Viz
from
Super Fast with High quality and reliability
I bought this printer to for our consulting company. It works great for printing presentations. What used to be hours of printing with failures on an old printer, is now done in minutes, without failures, with this printer. The cartridges in the old printer maybe lasted a month. With this printer, and printing more, the cartridges have lasted over a year! This has been a huge savings for our small business in both time, money, and reliability. It also prints with a better quality than most printers, it's not quite magazine quality, but it's really good.
Date published: 2019-08-16T00:00:00-04:00
Rated

5

out of

5
by
andygirl98
from
We hate this printer
This printer is not intuitive. Having to change the printer settings to whatever it deems necessary is ridiculous, and half the time I have to enter inaccurate information in order to get the thing to print. If you can get it to print, the print quality is very good and the speed is certainly acceptable. This printer is shared between four people in the office and we all cuss at it on a regular basis because it will not print.
Date published: 2020-02-14T00:00:00-05:00
Rated

5

out of

5
by
Office print
from
HORRIBLE - Jams regularly, swallows stacks of paper
Need to print papers daily, this printer jams REGULARLY. Will not print more than 5 times before it jams again. Often times it Will take in stacks of more than 3 papers at a time and completely ruin them, and jam have lost so much $$$ in ruined paper. DO NOT BUY.
Date published: 2021-01-28T00:00:00-05:00
Rated

5

out of

5
by
zzz
from
Too expensive to operate
Too expensive to operate compared to other brands.
Date published: 2020-09-01T00:00:00-04:00
Rated

5

out of

5
by
Greg M
from
Once you get th bugs worked through the machine runs great.
We have 2 of these printers and both we finicky to start will. Once we get with support a couple times then it runs great and does good copies.
Date published: 2020-08-05T00:00:00-04:00
Rated

5

out of

5
by
NCD
from
Great investment
This is so much faster than our old printer and better quality.
Date published: 2021-06-30T00:00:00-04:00
Rated

5

out of

5
by
RSdraig
from
Don't buy - I can no longer use it!
Been an owner for 3 months and can no longer use it - it only prints when it wants to (e.g. wait 2 - 3 hours for it to do so). Apparently I need to login as 'admin' to reset the printer, but the default admin passwords don't work. 3 hours spent today with support, but all they say is to wait 24 hours for the printer to allow more login attempts and then continue to 'guess' at the password. i.e. it is completely unusable now and needs to be thrown away!
Date published: 2022-07-07T00:00:00-04:00
Rated

5

out of

5
by
fabiitoh
from
Great features!
We use it a work and it is excellent for printing all reports and documents needed. Quality is great
Date published: 2022-06-14T00:00:00-04:00
Rated

5

out of

5
by
Sharon
from
Not intuitive or particularly user friendly
I so wish my old HP printer had been repairable. I spend more time trying to configure this printer than actually using it!
Date published: 2022-11-09T00:00:00-05:00