Aruba Instant On
for Small Business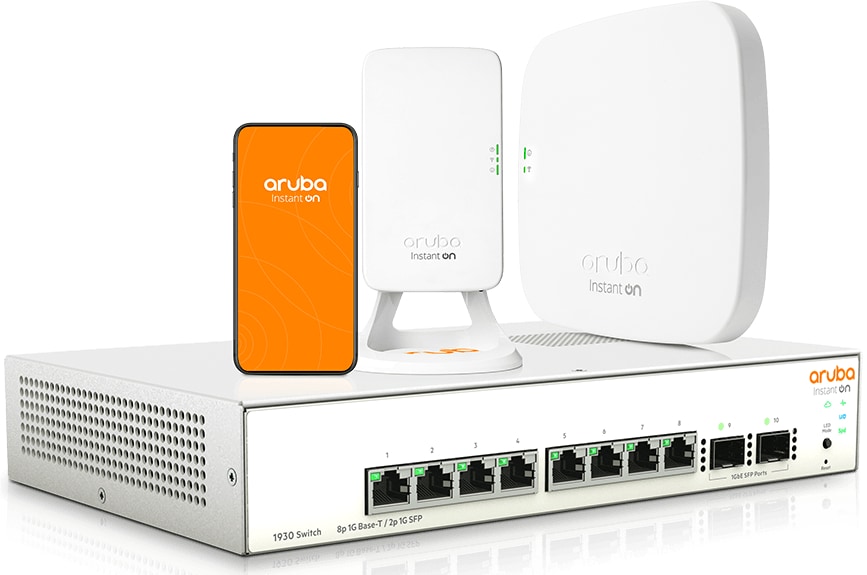 Introducing Aruba Instant On
Fast, secure and affordable Wi-Fi from Aruba creates an environment that maximizes your employees' productivity while creating a satisfying experience.
The Aruba Instant On Full Solution Setup
Get your full stack solution up and running fast, with simple setup through the Aruba CX mobile app.
Everything You Need at One All-Inclusive Price

Get all the hardware and security your network needs, with no subscription or licensing fees. Grow your network as your business grows. Start strong with included hardware coverage and 24/7 concierge-level phone support.
24-month warranty for access points
Limited lifetime warranty for switches
24/7 telephone support for the first 90 days
24/7 chat support
Software support
Free next-business-day shopping for all replacement parts
The Key Features of Aruba Instant On
Get optimized network performance—even in the most congested environments. Automatically get the best 802.11 channel and transmitting power for each AP in its current RF environment.
Secure your network and provide access using a shared password. Choose either WPA2 security standards or the more advanced WPA3 security standards from your mobile app.
Simplified Troubleshooting
Take advantage of the enterprise-grade Bluetooth modules found in each of our access points. Troubleshoot any network issues you may have straight from our mobile app.
Get the best network band at any given time. Or, manually choose 2.4GHz, 5Ghz or both. Enable and disable channels with a single click.
Aruba Instant On Access Points and Bundles
Create a complete Wi-Fi setup for your business with Aruba Instant On wireless access points and featured bundles.

Aruba Instant On Switches
Round out your network with simple-to-set-up, easy-to-manage, fast and reliable switches at great price points. Power Over Ethernet (PoE) and speeds of up to 10 Gigabit let you run any access point, printer or server that makes your business work.