Be ready with Intel and CDW.

Shop Intel Products and Solutions
Hybrid clouds built on trusted Intel platforms deliver the agility and security your business needs to innovate rapidly. Provide a consistent Intel architecture-based application environment across all your cloud workloads.

2nd Generation Intel® Xeon® Scalable Processors
The next generation of Intel Xeon processors are designed to help your business form a foundation of data-centric innovation.

A New Class of Advanced Performance
The Intel Xeon Scalable Platform with 2nd Gen Intel Xeon Scalable processors enables a new class of advanced performance, data insights and infrastructure readiness.
Performance to Propel Insights
Intel's workload-optimized Xeon Platform, with built in AI acceleration, provides a seamless performance foundation and propels new data insights from the multicloud to intelligent edge and back.
Intel® Optane™ Technology for Data Centres
Redefine traditional architectures with Intel Optane offering a large and persistent memory tier at an affordable cost.

Understanding Intel Optane DC Technology
Intel Optane data center technology places data closer to the CPU, closing the gap between traditional memory and storage options and transforming the memory and storage tier.
Top 5 Reasons to Deploy Intel Optane Technology
Whether accessing data faster or accelerating response and performance, see how Intel Optane technology can make a difference for your business.

Learn More (PDF)
Intel® Optane™ DC SSD Series
Eliminate data center storage bottlenecks and allow for bigger, more affordable data sets with Intel Optane solid state drives.

Solve Demanding Storage and Memory Challenges
The DC P4800X/P4801X SSD series accelerates applications with fast caching and fast storage. See how you can increase scale per server and reduce transaction costs for latency sensitive workloads.
Expand Data Sets, Eliminate Bottlenecks
Combine the attributes of memory and storage to transform your business with help from the Intel Optane SSD DC P4800X.
Get Ready for the Future with Modern IT Infrastructure
Intel Select Solutions are faster, easier and performance-benchmarked in order to help jumpstart IT modernization.
Is Your Infrastructure Slowing You Down?
Modern software runs best on modern hardware. Discover how Windows Server 2019, SQL Server 2017 and Intel architecture work better together.
Intel Software and Hardware Innovations
Intel solutions are built to provide the performance, efficiency and security you need to compete with today's competition for tomorrow's business.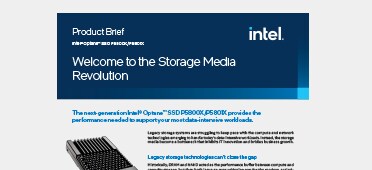 It's a Storage Media Revolution
The next-generation Intel® Optane™ SSD P5800X/P5801X provides the performance needed to support your most data-intensive workloads.

View Product Brief (PDF)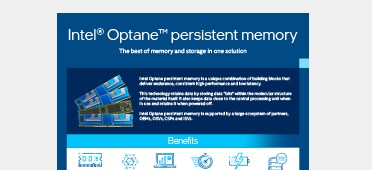 The Best of Memory and Storage
The next-generation Intel® Optane™ SSD P5800X/P5801X provides the performance needed to support your most data-intensive workloads.

Read Checklist (PDF)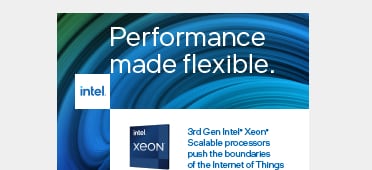 Meet Present and Future AI Needs
Take your IoT technology further - 3rd Gen Intel® Xeon® Scalable processors push the boundaries of the Internet of Things.

Read Solution Brief (PDF)