Smarter Technology for All.
Smarter Technology for All.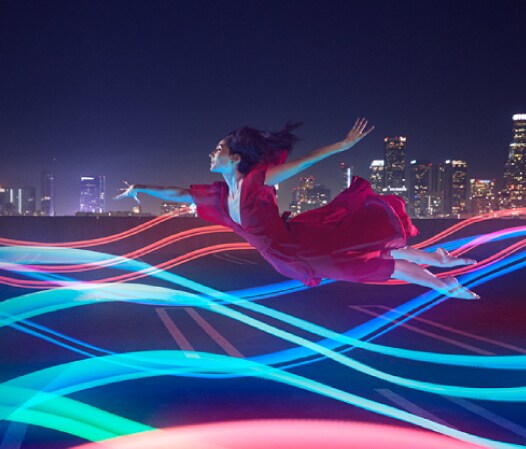 Shop Lenovo Products and Solutions
Innovation is not just what Lenovo does, it's part of their DNA. It does not just make Lenovo who they are, it flows through everything they do—from the smartphone in your pocket and light bulbs in your smart home to the servers in your data center. And beyond.
Productivity Bundles for the New Hybrid Workspace
Working remotely is no longer the new normal – it's the next norm, evolving as businesses decide who needs to be in the office and who does not. Lenovo ThinkPad paired with Think accessories are built on the latest Intel processors bring together industry-leading performance & security to enable employees in today's hybrid environments.

Its FHD In-Plane Switching panel and NearEdgeless bezels is well suited for multi-monitor setups, helping you enhance efficiency. Transfer or receive data with ease using varied options to connect other peripherals. This monitor is thoughtfully designed to keep your desk space organized and provide ergonomic benefits to users who spend long hours at work.

ThinkPad X1 ANC Headphones
These headphones provide rich, first-class listening and calling in any noise environment. Enjoy world-class call quality delivered via six boomless mics with environmental noise cancellation (ENC) technology that reduces irritating background noise. Achieve undisturbed focus, any time, with active noise-canceling technology that intelligently mirrors and mutes noises and distractions around you.

Collaboration Solutions for Modern, Hybrid Offices
Whether you are working in-office, from home or on the go – we're all being asked to connect with others more than ever. No matter where you are, Lenovo ThinkSmart collaboration solutions with Microsoft Teams Rooms can help connect quickly, communicate seamlessly and collaborate effectively.


Find the right Lenovo Business notebook for your workplace solution.

Find the right Lenovo Business desktop for your workplace solution.
By combining the aboslute top-of-the-line components with groundbreaking designs, Lenovo workstations deliver industry-leading power and reliability to handle any workload.

Long product life contributes to reduced environmental impact. Lenovo designs its products to maximize their lifespan and offers three-year standard warranties and five years of replacement part availability on many of its top-selling commercial products. 

K-12 and Higher Education Institutions like yours are striving to implement IT strategies that ensure high-quality education experiences for all students with minimal disruptions. Education CIOs are investing in IT services that improve student success, digitalize classrooms and maximize learning time. 

Certain endpoint devices are uniquely suited to address specific healthcare needs and use cases. All PCs are not created equal – and with Lenovo's offerings of devices designed for healthcare, meeting patient care demands is now easier and more secure than ever.

Virtual Rounding & Patient Care
Demand from patients for virtualized access to their health data and providers will persist as healthcare systems transform to meet the evolving demands of patients in today's ever-changing environments. Lenovo remains committed to building innovative devices and solutions that support and adapt to the changing healthcare landscape.
Take back time in your busy schedule with Lenovo notebooks powered by AMD Ryzen processors. It's your time, own it.

Shop Now >
Lenovo is ready to help customers achieve modern deployment and management best practices. 


Learn More >
In today's modern workplace, reliable technology is essential; and with Lenovo premier support, you can solve any device issue you may face.